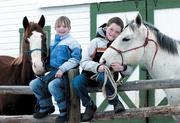 Hayden — Liam and Millie Delaney couldn't believe they were sitting with a person who was afraid of horses.
"Oh, come on," Liam said in disbelief, while his younger sister Millie threw her head back, laughing.
"We started riding a horse right when we could walk," Millie said.
Few children are more comfortable around animals than the Delaneys. Liam, 11, and Millie, 9, live on a ranch near Hayden where they help take care of 11 horses, one yak, three dogs, four cats and more than a dozen chickens.
Liam and Millie are active in 4-H and show animals and compete in shooting events during the Routt County Fair.
In addition to showing horses, the children show pigs and lambs, which isn't as easy as pulling the trailer up to the barn.
"A pig is harder to show because you can lose it," Millie said. "You don't have anything controlling it but the stick."
Liam and Millie are still in elementary school, but they are bright, articulate and comfortable talking to just about anybody.
Liam attributes their ease with public speaking to dealing with judges during fairs and competitions. They also recently acted in the community production of "Charlie and the Chocolate Factory."
Liam and Millie's aptitude with horses has led them to the Pony Club, an international organization that ranks junior riders based on ability and knowledge.
A ranch or farm is a unique place for children to grow up. The Delaneys don't watch television and ride the bus to school every day with their mother Tammie Delaney, who drives one route.
They work hard at home and school, but there also is plenty of time to play.
"I like to swim in the river, but only in the summer" said Millie, again, laughing.
"I like to go hunting," said Liam, who added that he is still too young to shoot a real gun. "Next year. This year, I just carried the rabbits."