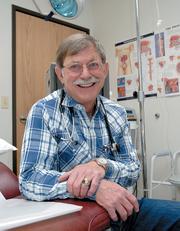 Steamboat Springs — Dr. Lyman R. Brothers III, M.D., has a down-home persona that puts patients at ease in the uncomfortable situations a urologist sees every day.
At the Urology Clinic on Anglers Drive that he shares with partners Stacy Childs and James Haden, Brothers treats a wide range of ailments including prostate cancer, urinary tract malignancies, kidney stones, sexual dysfunction, prolapse of the bladder and urinary incontinence in women.
With such a daunting list, it's a good thing Brothers is easy to get along with.
"You have to treat the person with the illness, not just the illness," said Brothers, a Virginia native who has practiced in Steamboat Springs for more than 25 years. "That's part of being a physician."
The former Wyoming rancher is an avid hunter, pilot and dirt-biker who speaks with a smooth drawl reminiscent of his years in Laramie.
Brothers was an associate professor of urology at the University of Wyoming, with a private urology practice in Laramie, when he began visiting Steamboat to ski. After talking with doctors about local urology services, Brothers decided to open a satellite clinic in Steamboat in 1980.
The practice has since grown to a full-time clinic that provides urology care and related surgical procedures for residents across Northwest Colorado.
"It got so busy that we decided to move down here permanently in 2000," he said.
With three kids through college and married, Brothers found it easy to move to Steamboat with Jane, his wife of 38 years.
The couple has five grandchildren. Even with the large family and a busy clinic, Brothers said he still finds time for recreation.
"Right now, my passion is flying," Brothers said. "And I think hunting mule deer is wonderful."
Brothers said the sense of community has kept him and Jane in town.
"All of our best friends are in Steamboat," he said. "That's the bottom line of it."