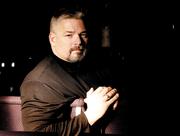 Kevin King is commanding in stature, voice and message.
The former police officer and Atlanta-native-turned-mountain-man has been Anchor Way Baptist Church's guiding hand for the past 7 1/2 years.
During his time at the church, King has overseen a substantial remodel - including an impressive underground mine-themed children's center - and has watched his congregation grow and flourish.
"One of the things I am most proud of is the connection members make here with others," he said. "This is a wonderful town to pastor in because everyone is fun. I have a great time."
King said he looks forward to coming to work every day. In fact, he won't even call it work.
"I am so fortunate because I get to share the best message in the universe, which is that God loves you and he'll take you how you are, exactly where you are," he said.
Although King may not look like your typical religious leader, he certainly sounds like one.
With a drawl as thick as a humid, Southern summer night, King presents his teachings in whatever way it takes to reach his congregation. That often means music, laughing, joking and singing.
"I've been described as over the top, but I like to think I'm authentic and genuine," he said. "You either love me or hate me."
King takes pride in what he does and is so secure with his style that he makes a promise to his congregation. "I like to tell people if I put them to sleep, I'll buy them a steak," he said. "So far, I haven't had to buy one."