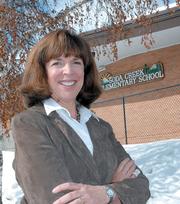 Steamboat Springs — Soda Creek Elementary School Principal Judy Harris has a secret.
"I always hated school," she said.
But somewhere between having two sons and filling prescriptions at a family-owned pharmacy in Salida, Harris changed her mind about education.
"Part of it was watching my kids in the system and wanting to make it more meaningful for them and other kids," she said.
Harris received a bachelor's degree in education from Adams State College and spent more than a decade working in the Salida School District as a teacher and developer of curriculum and content at the state and local level.
Harris' educational focus shifted during a year-long principal licensure program.
"At that point, I started seeing the positive impact a principal can have in a building," Harris said.
Sending out a resume and job application was part of the class requirement. Harris received a call back from the Steamboat Springs School District and moved to the Yampa Valley in 1999.
But Harris didn't "fulfill her dream" of being a principal until she was offered the Soda Creek position in 2001.
"Judy focuses all of her thinking and her decisions on what is best for the students," Steamboat Springs Superintendent Donna Howell said. "She is a very, very strong advocate for her students and her staff."
Under the guidance of Harris, Soda Creek has consistently scored higher on state tests than many other elementary schools in Colorado. And she is excited about the school's future.
Construction on a new Soda Creek Elementary School is scheduled to begin this summer.
"What I'm looking forward to is a state-of-the-art building to allow our teachers what they deserve, with flexibility to build new memories," Harris said.