Locals 2007: James Dudley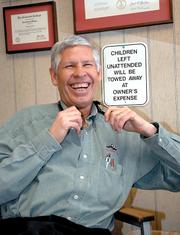 Dr. James Dudley, M.D., doesn't need to go outside to tell what time of year it is.
"We get knee injuries with the skiers, and broken collarbones with the mountain bikers," Dudley said. "We can definitely tell the season."
Dudley has practiced as a family physician in Steamboat Springs since 1980. He shares the Steamboat Medical Group offices on Pine Grove Road with partners Dr. David Williams, Dr. Louise Thielen and Dr. Kristin Wilson.
"I take care of pretty much everything," Dudley said of his job working with people of all ages. He said he treats ailments including common colds, broken bones and pneumonia.
"I really do like it all," Dudley said. "That's why I love being a family physician."
Dudley also enjoys a wide variety of leisure activities, including playing and coaching soccer, cross-country skiing, working on computers and reading works of fiction.
"That's my lay back and relax time," Dudley said of hitting the books.
The amiable doctor has practiced in Steamboat for not just years, but generations.
"I've taken care of the kids of kids I delivered," Dudley said.
And because he practices in Steamboat, Dudley's patients include a generation of Olympic athletes such as skier Todd Lodwick.
"They grew up with my kids," Dudley said of the athletes. "I probably know them more as my kids' friends than as patients. That's the coolest thing about a town like this - knowing everybody and having so many opportunities to visit."