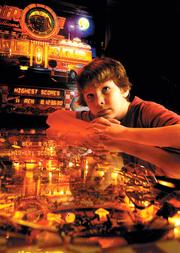 Steamboat Springs — Jake Barker is intelligent, athletic and cultured. Add elusive to the list.
Between classes at Steamboat Springs Middle School and Steamboat Springs Winter Sports Club training, Jake has about 30 minutes each day to sit down and talk about life as a 13-year-old in Steamboat.
Weekends? Out of the question.
Jake is one of Steamboat's top up-and-coming Nordic combined athletes. During the winter, he and his teammates, who also happen to be his good friends, are usually competing.
"I guess I'm used to it," Jill Barker said of her son's schedule.
Jake's frantic schedule isn't unique, but his interests are. Few young boys spend winters flying off ski jumps and summers in theater and dance classes at Perry-Mansfield Performing Arts School and Camp.
"You have to do dance, but I'm not a huge fan of dance," Jake said. "But I do like the trapeze."
Jake has performed in several local plays, including summer plays at Perry-Mansfield and the lead in the middle school staging of "Peter Pan."
Jake and Jill Barker credit Soda Creek Elementary School music teacher Amy Larson with unlocking Jake's voice, but Jake deserves credit for being able to perform and compete.
Jake isn't allowed to participate in extra-curricular activities unless he maintains a 4.0 GPA, so he keeps his grades up. After all, Jake has had a goal tracing back to the day he soared off the K-120 ski jump on his 11th birthday - the Olympics.
Jake and his friends casually discuss being Steamboat's next great team of Nordic combined athletes.
"We talk about just how lucky we are," Jake said. "It's cool to look down from the top of the jumps mid-day. You can see the whole town. You can see the middle school from the top of the ski jumps."