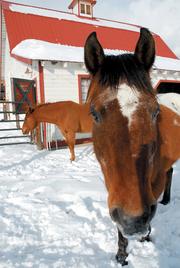 Steamboat Springs — Maximillian is the first and only horse at Humble Ranch Education and Therapy Center to receive a Christmas card.
He is a 20-year-old Appaloosa gelding, who is the oldest and longest standing member of the ranch's herd. Maximillian is known for being the most serious and sensitive horse on the ranch. He rides as smooth as a Cadillac.
"He just rises far above the instincts of being a horse as a species, because of his ability to listen to that inner call of his ability to change a child's life," said Fran Carollo, horse handler at Humble Ranch. "He has an understanding that he carries precious cargo."
Maximillian works in the ranch's hippotherapy program, where the rider works one-on-one with a physical or occupational therapist to accomplish goals such as strengthening, postural control and balance.
Doc, on the other hand, is Mr. Social Director and the class clown of Humble Ranch. He is an 8-year-old quarter horse gelding who works in both the hippotherapy program and the therapeutic riding program.
"He's always curious and has got that look in his eye and a perk in his ears, and definitely always wants to touch you," said Cheri Trousil, therapist, founder and director of Humble Ranch. "He loves to be in your space, whether he's invited or not."
Each horse's personality determines which client he is matched with.
"For a young horse, Doc really loves being around the children and really identifies with their sweetness and spirit," Carollo said. "And he understands that he is there for a purpose - to help someone through a difficult time emotionally and physically."
Not all horses can do their important job of helping individuals with special needs and touching the hearts of staff and volunteers who work closely with them.
"It's 100-fold what you put in and get back," Carollo said. "It is an honor to work with them."