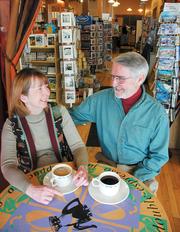 Steamboat Springs — Dick and Leslie Ryan have managed to carve a successful book-selling niche in an era of book megastores.
"I think people need to remember every time they go to the Internet and purchase their books, they're not supporting the community of Steamboat Springs," Leslie said. "We're proud of what we've built, and we're pleased with the support from the community."
The Ryans' efforts to keep the Off the Beaten Path Bookstore an asset in the community have not gone unnoticed. Last year, the bookstore was named the Business of the Year by the Steamboat Springs Chamber Resort Association.
Leslie and Dick moved to Steamboat from Los Angeles in search of a change in lifestyle. Dick was looking through the classifieds section of the Wall Street Journal one day and saw a listing for a small bookstore for sale in Steamboat on Lincoln Avenue.
"It was a tiny classified ad in the paper," Dick said. "It said 'profitable bookstore.'"
Dick visited and decided to make the move.
Before they met anyone in Steamboat, Dick and Leslie had already purchased a home and the Boomtown bookstore in the 900 block of Lincoln Avenue.
In 1990, they moved the business into a larger space. But it was a risk, Dick said, because it was "Off the Beaten Path," since it was half a block off Lincoln Avenue.
They borrowed a concept from the West Coast and incorporated a cafe into the bookstore. Selling more than just books has been key to their success.
"They offer a variety of services above and beyond what a bookstore needs to offer," Chamber spokeswoman Riley Polumbus said. "They've tried to be the type of bookstore you would like to have in your town."