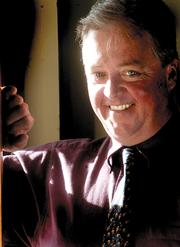 Steamboat Springs — Daryl Newcomb knows next year will be his best yet in Steamboat Springs.
It's not that Newcomb has disliked any of the previous 21 years in Steamboat, but each year just gets a little bit better, he said.
"First, it's the skiing, and then it's the people," Newcomb said of what makes Steamboat great.
In the winter, Newcomb can be found ready to catch the bus to the ski area by 8:20 a.m. Then he skis with family and friends until 2:30 p.m., rushes home, showers and heads to his job at Cafe Diva, where he's one of the most respected waiters in town.
On his off days, he catches the bus at 8 a.m., and then skis until it's dark.
"Customers always ask me, 'aren't you the guy who skis every day?'" Newcomb said. "People seem to respect that and admire that."
Newcomb said the best part of living in Steamboat has been the people he has met - some of whom he has skied with for the past 20 years.
"Steamboat creates a nice quality of life," he said while taking a break at the base of the ski area. "Everybody shares the same desire. I love it that everybody talks to everybody."
While Newcomb doesn't have any secret spots to find powder, he said his favorite place to ski is Fish Creek Canyon, where he goes by his alter ego, "The Manyon of the Canyon."
Newcomb, who spent time in Winter Park and Arapahoe Basin before coming to Steamboat, said he knows the rest of his days will be spent in Steamboat Springs, waiting tables, skiing and always smiling.
"The best thing about living (in Winter Park and Arapahoe Basin) was hearing the stories about Steamboat," he said. "I don't ever plan on leaving here. As long as I have my health and the respect of my peers, I'm unstoppable."