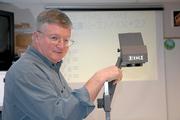 Steamboat Springs — When Bob Hiester left Grandview High School in 2001, he technically retired from teaching.
Yeah, right.
Bob and his wife, Judy, simply left Denver for a slower life in the mountains, where he could start the Steamboat Springs High School boys lacrosse program and teach math.
Actually, Judy isn't sure when her husband will retire.
"I think he has a passion for teaching and a love for mathematics," she said. "I think that's what keeps him going. He truly enjoys it. It's not just a job or a career or a profession. He loves the student interaction, and he so enjoys and is thrilled by watching their learning process."
The process is what intrigues Bob about math, a subject he has been teaching for 39 years. He teaches all levels, including high school algebra and geometry and AP calculus.
"In terms of learning mathematics, the process becomes more important than the final answer - how you think about it and how you set it up," Bob said.
He insists students show their work so he can see whether they understand the concepts. If anything, Bob relates to all his math students - those who love it, because he does, and those who struggle, because he did.
"I was always in upper-level math, but I had to work at it," Bob said. "I think part of my teaching style comes from that."
And no matter the school - Cherry Creek, Smoky Hill, Grandview or Steamboat - Bob has received praise from students, co-workers and administrators about his teaching ability.
"I've always enjoyed the coaching and teaching," Bob said. "I've enjoyed working with kids in different environments. I bring an enthusiasm and energy to both. This is what I do. I go to school."
Call it Bob's retirement plan.
- Story by Melinda Mawdsley
Photo by Tyler Arroyo