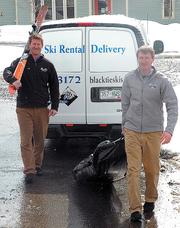 Steamboat Springs — Joe Sternberg came up with the concept for ski and snowboard equipment rental delivery thanks to a special request by a customer while he was working at Steamboat Ski and Sport in March 2002.
Country music star Alan Jackson's assistant called Sternberg and asked Sternberg if he could just bring some ski equipment to Jackson's hotel room.
Sternberg obliged, and the idea behind the successful Black Tie Ski Rentals business was born.
"It really spawned from that day," Sternberg said. "It was kind of a neat thing."
Sternberg partnered with Ian Prichard, and the first van full of rental skis for delivery was loaded out of the one-car garage at Prichard's townhome.
The men started a grass-roots business in Steamboat, which now has locations in some of the largest ski resorts in the United States. They recently broke into the Canadian market, bringing the total number of stores to 10 serving 22 ski resorts. They think they were the first company to commit to delivery-only rentals.
"We changed renting equipment from a sometimes negative experience to a real positive experience," Prichard said. "We started on our own with little or no capital."
This past year, Black Tie Ski Rentals was a nominee for the Steamboat Springs Chamber Resort Association's Business of the Year award. That was a welcome surprise, Prichard and Sternberg said.
"They're young, positive upbeat guys who understand customer service," Chamber spokeswoman Riley Polumbus said. "This is one company where I'm proud to know these guys, and I'm proud that they have originated in Steamboat."