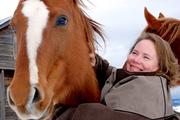 Steamboat Springs — Don't worry about wiping your feet when you enter Jo Stanko's home.
"This is a ranch house," she'll immediately tell you. She jokes that maybe she'd have time to worry about a little mud if it came down to that or digging post holes.
Jo and her husband, Jim, breed cows and raise hay on their 640-acre ranch and 2,000 acres of leased pastureland just west of Steamboat Springs on Twentymile Road.
Jim's grandfather bought the ranch in 1907, and Jo is working on a family cookbook to celebrate the 100-year anniversary.
For Stanko, to know one's heritage is to understand where one's food comes from.
"We're so far removed, we don't even think about where it comes from anymore," Stanko said. "People don't realize the role agriculture plays in their everyday lives."
As a champion of agricultural awareness, Stanko serves on a human nutrition research committee for the National Cattlemen's Beef Association. At the local level, she is on the board of directors of the Community Agricultural Alliance and the 4-H Scholarship Foundation.
Jo also focuses on safeguarding agricultural heritage. Her belief that retaining local agricultural families creates "the sense of place that makes it a real community with real people" is what drives her politics. She's the voter services chairwoman for the League of Women Voters and can assure you "those Salazar boys know who we are."
And with city sprawl continuing to inch closer to the family ranch and other historic agriculture properties, Stanko plans to continue adapting and working for the survival of Steamboat's ranching heritage.
- Story by Dave Shively
Photo by Tom Ross