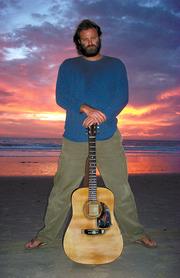 Past Event
Saturday, March 31, 2007, 8:30 p.m.
Hahn's Peak Cafe, 61070 County Road 129, Clark, CO
Not available
John Sotter, also known as the "acoustic warrior," does not recommend anybody pursue a music career.
"Writing good songs and having a lot of talent is a very small part of the equation," he said. "The big part is knowing people in some of the right places and getting to the next level."
Sotter has taken all the side roads in his music career. He has taken his guitar all over the world and performed for many nontraditional audiences.
"Baboons don't normally have conversations while listening to you," he said of an audience in Cape Town, South Africa. "But you normally don't get applause from them either."
This month, Sotter is calling his always-evolving music "rocky acoustic folk grass," and his inspiration is an accumulation of his worldwide travels.
"Not until you go hang out with Hindu people from India and Buddhist people from Nepal do you see a much different view of life," he said. "I like to think my music comes from the heart and my adventures around the world."
Sotter has used music as a universal language when staying in villages where nobody spoke English. He spent one month in a rice-farming village in Indonesia.
"They never had white people stay in this village before," he said. "We had people hanging outside our window all day long trying to catch a peak at us."
Sotter now resides in San Clemente, Calif., but is not influenced by living close to the Los Angeles music culture.
"There is a lot of imitation, especially in L.A.," he said. "You could throw a water balloon and hit 100 different bands that all sound the same."
Sotter has heard from many L.A. producers and managers that the CD as a medium is dying or dead.
"People aren't necessarily buying them anymore. You sell one and then 1,000 people copy it," he said. "The entire business model is built on one or two songs doing well."
But Sotter has not been discouraged from working on his next CD, and he's doing it all by himself.
"It's a lengthy process where I do a bunch of work on a song, and to save my sanity, I get away from it for a week or two or three," he said. "Otherwise I would listen to it over and over again and end up hating it."
Sotter does not plan to give up on the music industry anytime soon.
"I am the acoustic warrior, and I do it because I love it," he said. "I've spent so many years sitting on beaches and river banks writing music, and I grew to love it. I could never imagine myself not doing it."