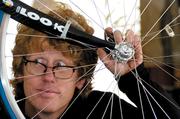 Steamboat Springs — Everything Brock Webster has done since he was 12 has focused on bikes.
"I grew up a total bike racer from the beginning," said Webster, who has owned Orange Peel Bicycle Service, on Yampa Street, since 1999.
Webster grew up in Pennsylvania, where the local bicycling club was as popular with kids as the Steamboat Springs Winter Sports Club is with kids in Steamboat. He landed his first job in a bike shop when he was 15 and learned the ropes of bike repair.
Webster was on the U.S. Cycling Team for a year and, after an injury, went to Colorado State University to study economics.
In 1995, he decided to switch his focus from bikes and moved to Steamboat to be a ski bum. That did not last long, and he was soon working to build a home-based bike shop.
"The first couple of years I worked on bikes during the day and bused tables at night," Webster said.
He noticed a need for a good bike shop, so Webster said he "rolled the dice" and opened the Orange Peel bike shop and retail store.
David Dietrich has known Webster for more than 10 years. They have always been friends and did some riding together. Dietrich is also Webster's sales representative at Moots Cycles in Steamboat.
"He's always in a positive mood," Dietrich said. "He's always high-energy. He's ready to go, go, go."
Webster describes himself as intense. It's a positive quality, Dietrich said, but there are other qualities that keep Orange Peel customers happy.
"He comes off as having a goofy, fun attitude," Dietrich said, "but that's his fun attitude that he brings into his business, which makes customers comfortable."
- Story by Matt Stensland
Photo by John F. Russell