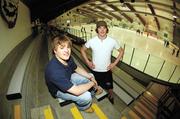 Steamboat Springs — Jimmy Terry and Jake Stanford have played hockey together since the time they first strapped on pairs of skates as Mites.
"We've always played together, and we've always pushed one another," Terry said.
Earlier this month, the two Steamboat Springs skaters joined 70 others from around the state in one of the biggest tryouts of their prep careers. The tryout determined the 21 skaters that will represent Team Colorado at the 23rd Chicago Showcase, which will be held in Bensenville, Ill. on April 18 to 22.
"It was an advantage that we were both on the same team for the tryouts," Stanford said. "I knew what Jimmy could do. We could set up plays and it was easier to stand out."
In the end, both players got the attention of the coaches who selected the Colorado team and both earned the right to play in Bensenville.
"The game is much faster. The passes are more accurate and the game is more physical than in high school," Stanford said. "It's just going to get faster, and more intense at the Showcase."
The purpose of the 2007 Chicago Showcase, which includes 34 teams from across the country, is to allow high school hockey players who are not normally scouted due to geographic and budgetary constraints an opportunity to compete and show what they have. During the tournament, the Steamboat players are going to be seen by every major hockey institution in North America.
"Scouts come from all around the country for this one," Sailors coach Jeff Ruff said. "A lot of guys try out and they get a lot of exposure from a lot of different arenas."
Ruff said these are the first players from the Steamboat Springs High School program to be invited to the showcase and that everyone associated with the program is thrilled Terry and Stanford will represent Steamboat.
"We are very proud of these two players," Ruff said. "This is a huge achievement and something that doesn't happen every year."
For Terry, it's an opportunity to keep playing hockey at the next level.
"I definitely want to keep playing," Terry said. "It doesn't matter where I go as long as I make it to a junior A team."
Although he is only a junior, Stanford also is looking to make that next step, which means leaving home for a Junior A or AAA team. This was his first shot at qualifying for the Chicago Showcase, and now that he is there, he is hoping to make the most of the chance, even if it means missing his final year at Steamboat Springs High School.
The players will travel to Denver twice a week for the next few weeks in order to train with Team Colorado and get to know their other teammates. After that, it's on to the Showcase, and an opportunity to take that next step.
-To reach John F. Russell call 871-4209
or e-mail jrussell @steamboatpilot.com