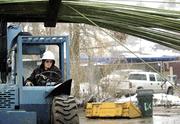 Steamboat Springs — County officials have taken advantage of an unusual upside to Routt County's booming construction industry.
The Routt County Board of Commissioners on Tuesday approved the transfer of more than $1.4 million from the Regional Building Department's reserve fund to the county's general fund. Commissioner Doug Monger said the transfer will "repay" the county's general fund for payments made to the building department during years - all but four between 1972 and 1992 - when the department operated at a loss.
But since 1993, the building department has been operating at a profit, enough to begin a reserve fund in 1998. At the end of 2006, that reserve exceeded $2.4 million.
"We have a healthy construction industry, so we did get a significant amount of excess revenue," said Carl Dunham, director of the building department.
The building department serves municipalities including Hayden, Oak Creek, Steamboat Springs and Yampa, and receives revenues from permit, planning and inspection fees.
Dunham said although the department is using a fee scale adopted in 1985, the department still is receiving excess revenues due to an increase in construction activity and associated fees across the county.
"That's definitely a part of it," Dunham said.
Because the department is regional, Steamboat Springs Deputy City Manager Wendy DuBord said some city officials are questioning the appropriateness of the transfer.
"We knew it was coming, but we didn't know the amount until about a week ago - the city, I think, has some split opinions," DuBord said. "It's a lot of money. And a lot of those fees - at least half, if not more - came from building permits issued within city limits. But I don't think there's anything we can do about it one way or another, from a policy standpoint."
County Manager Tom Sullivan and county attorney John Merrill wrote the resolution adopting the transfer. The resolution uses Colorado case law and the intergovernmental agreement that formed the building department to demonstrate the county's ability to repay its general fund through the transfer.
"The reality is, per the agreement, they have the right to do it," said City Councilman Loui Antonucci, a realtor with Old Town Realty. "I think it's what happens as we go forward from here that's more important. If the building department is taking in that much more money than it spends, then we probably have to take a serious look at the fees. I think that's a conversation we'll probably have."
Dunham said in future years, excess building department revenues will be shifted to benefit county departments, such as planning or road and bridge, that also provide inspection and permit services.
"We're not talking about rolling back fees, but we are talking about adjusting in other areas," Dunham said. "What we're looking at is a fee-for-service system. And we don't want to raise fees."
Monger and Commissioner Nancy Stahoviak said the county will likely use revenues from the transfer to help fund future capital construction projects, such as road improvements or renovations of the Routt County Courthouse in downtown Steamboat.
"I think we'll be having lots of discussions about that money, and we will put it to some very good, permanent improvements," Stahoviak said. "Actually conducting the formal transfer is something that has never been done before."