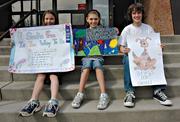 Steamboat Springs — There are three fifth-graders at Soda Creek Elementary School who said Monday that they are never going to smoke.
"If I want to I'll just look at my poster," Myrissa Pyle said.
Myrissa and her classmates designed posters to reflect what remaining tobacco-free means to them. Myrissa drew a bright poster full of blues, greens, reds and other colors.
"I thought people who smoked didn't see the world in a lot of colors," Myrissa said. "Smoking is an addiction. People who smoke know the dangers, but it's an addiction."
The project was part of Tar Wars, an education program for elementary children across America. The program began in 1988 and reaches 500,000 children annually.
During the classroom presentation at Soda Creek by nurse Jan Riley and Dr. Brian Harrington, the students engaged in activities designed to increase their knowledge of the short-term effects of tobacco use, the cost of using tobacco, the reasons why people use tobacco and how tobacco advertisers target consumers.
Fifth-grader Callum Richman saw an advertisement portraying smoking and chewing as "cool," so he designed a poster with a dog saying, "Dawgs Don't Smoke."
"I saw the dog and thought I would do that," Callum said. "I spelled 'dawgs' like that for it to be like, 'Dudes don't smoke.'"
Callum placed third in the poster contest at Soda Creek. Myrissa placed second in the poster competition. The winner was fifth-grader Alice Holmquist who wrote a poem about not smoking.
"I thought if I did a poem it would pop out, and I got pictures that went with the poem to pop out," Alice said.
Alice's poster will be entered in the state competition, and if she wins the state contest, she will compete in a national contest. The national winner receives a family trip to Disney World.
Riley said Tar Wars is a great program and the lessons the children learn from the activities stay with them.
"They learned how advertisements try to get at kids," Riley said.
- To reach Melinda Mawdsley call 871-4208 or e-mail mmawdsley@steamboatpilot.com