Past Event
Saturday, March 31, 2007, 6 p.m.
The Steamboat Grand, 2300 Mount Werner Circle, Steamboat Springs
All ages / $35 - $300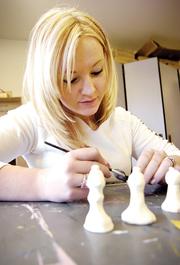 Steamboat Springs — Without fundraisers such as its auctions on Saturday, the Christian Heritage School likely would have to close its doors.
"This is our main, huge, must-have fundraiser," fundraising organizer Keri Couchoud said. "It helps us keep our tuition down."
Tuition at Christian Heritage varies by age with the high school having the highest tuition at $4,800 per student, but the students take an active role in helping raise funds for their school.
On Tuesday, freshmen and sophomores painted homemade chess pieces to be fired and auctioned with a homemade chess table.
The seniors are planning on auctioning themselves off to help with community service or other service-related projects.
The kindergarten students made homemade tire swings for the auction.
Residents can bid on the items online through Thursday, but the bidding doesn't end until Saturday at the Christian Heritage School's fundraising event at 6 p.m. at the Steamboat Grand Resort Hotel.
The silent auction lasts until 7:45 p.m. when the live auction will begin.
Heavy hors d'oeuvers and dessert will be served.
The keynote speaker this year is author and former professional basketball player Swen Nater. The alumni speaker will be Jonathan Olinger, who is working with the poor in Uganda.
Tickets are $35 per person or $300 for a corporate table. For reservations and seating arrangements, contact the Christian Heritage office at 879-1760.
Couchoud walked into the auction room Tuesday where many of this year's auction items are being stored until the weekend. This year's list of items includes everything from a beauty parlor birthday party for little girls to a fly fishing trip at Marabou.
An airplane ride, a hot air balloon ride, NFL tickets and gift baskets with different themes will be available to the highest bigger come Saturday.
In addition, auction organizers will be playing a game with event-goers Saturday. For $30 people can buy a playing card, which will be ripped in half with half going in a basket. The winner will be the last one standing with half a playing card in his or her hand. The winner receives a 42-inch high-definition television from Toshiba.
"It should be a lot of fun," Couchoud said.
Those unable to make Saturday's auction can have Christian Heritage School teachers do their bidding for them in their absence.
"The teachers will bid responsibly," Couchoud assured.