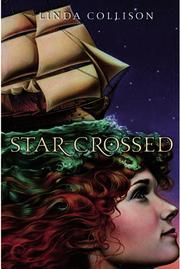 Steamboat Springs — Linda Collison gave her protagonist, Patricia Kelley, physical traits she desires.
"She is much taller than me and has beautiful long red hair -which I don't have," said Collison, author of "Star-Crossed." "But we both share the same adventurousness, for sure."
The book is a coming of age story of a teenage girl.
"It's about an orphaned British girl who stows away on a ship bound for Barbados in a bold attempt to claim her father's estate," Collison said. "And later on in the book, she dresses as a man to survive."
Collison got the idea for the setting of her novel - an 18th century ship - from working as a crewmember on a replica of Capt. James Cook's ship, on a three-week passage from Vancouver to Hawaii.
"It was like a floating museum and was a real ship in the 18th century. He sailed it all around the world," she said. "The Australians built this ship, and it is one of the most exact replicas in the world."
In order to be a part of the crew, Collison and her husband had to demonstrate they could uphold their maritime duties.
"They said there was no experience needed but we had to climb to the top point of the ship - the tallest mast - to prove you were willing to do it," she said. "It wasn't like some adventure package. They really needed you to work."
After the experience, Collison spent three years researching 18th century nautical history.
"I became a real geek about it by buying all these obscure books nobody had ever heard of," she said. "And going to all these museums, and touring ships in San Diego. It became a whole new hobby."
The novel has been chosen by the New York Public Library to be among its Best Books for the Teen Age for 2007, but it appeals to all age groups. Collison has donated two of the novels to Bud Werner Memorial Library because she has been a part-time resident of Steamboat Springs for 20 years.
"Everything else happens in my life in 14-year blocks," she said. "I was a nurse and skydiving instructor for 14 years, and have been married to Bob Russell (co-author of two guide books with Collison) for 14 years."
The sequel to "Star-Crossed" has been written and contains 14 chapters. Collison plans on making the story into a trilogy.
As the story unfolds in the sequential novels, one other characteristic of Collison is embodied in her main character.
"Like Patricia, when faced with a problem in life, I'd like to think that there's something I can do about it," she said. "And I'm not going to take it lying down."