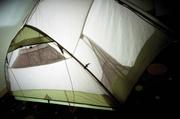 Steamboat Springs — Winning the Backpacker 2007 Editors' Choice Award for their Emerald Mountain SL3 tent, gives the local company Big Agnes major bragging rights.
"It's a pretty big deal in our industry and a pretty coveted award," said Kristin Hostetter, gear editor for Backpacker magazine. "It's validation of their design and their work."
The 16 products that received the 2007 Editors' Choice Awards raised the bar in terms of innovation, value or the "wild factor," Hostetter said.
Big Agnes' tent, that sleeps three people, was given the award because of its space to weight ratio and special features.
"For a tent that is just over 5 pounds, it is extremely roomy and a really pleasant tent to be in," Hostetter said. "Often times tents in this range are smaller, more cramped and have less living space."
Bill Gamber, Rich Hager and Chris Pottinger designed the tent.
"It was really a group effort," said Gamber, owner of Big Agnes and BAP Inc. "Piper Watson went on a five-month bike trip and took one with her, and a lot of her feedback was beneficial too."
The tent was based on Big Agnes' Seedhouse Super Light series.
"We wanted to take the concept of the super light weight series and add the creature comforts," Gamber said. "We added double doors, double vestibules and steep vertical walls so the interior space in the Emerald Three is incredible. It also comes with an accessory vestibule that you can put two bikes in."
The six editors at Backpacker spend all year looking for products to consider for these awards.
"We look for these products at both trade shows in the summer and winter and start compiling a list that starts with 50 products that caught the editors' eye," Hostetter said. "We pass them around so the people get to try them out. Some products quickly fall off the list because they are not what they seem to be or they don't perform as well as hoped."
The final test for this year's winner involved a six-day backpacking trip along the Columbia River Gorge.
"We use (the products) together and talk about them 24-7 where we debate, play and experiment with them. It is a democratic process with a majority vote," Hostetter said. "In the case of the Big Agnes tent, we all agreed it should be a winner."
Gamber is grateful for the award and the recognition.
"To get that stamp from Backpacker is huge and we have been completely flattered by it," he said. "It is humbling for us because we are just this little company in Steamboat Springs on Oak Street, in the red house."
- To reach Allison Plean, call 871-4204
or e-mail aplean@steamboatpilot.com