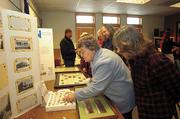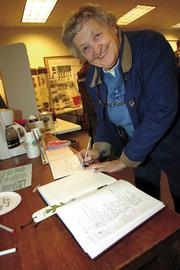 Oak Creek — The face of Oak Creek inevitably will change in the next decade, just as it has during the past 10 years.
For that reason, Oak Creek historian Mike Yurich has brainstormed, planned, plotted, recruited and set the schedule to celebrate and honor his favorite town's centennial - not on just one day, but during the course of the rest of the year.
"We're still a small hometown - I doubt it will be like that in 20 years," he said. "I wanted to do things all year that retain that feel of our small, hometown."
Oak Creek was incorporated as a Colorado municipality on Nov. 26, 1907.
Yurich, who has lived in Oak Creek his whole life, wanted to capture the different eras that shaped the town in a variety of events that ranged from a traditional Winterfest in January to the recent St. Patrick's Day Potato Bake last week.
There is an event every month until Nov. 26 commemorating Oak Creek's 100th birthday, he said.
"For me, this is just fun," he said. "I've been looking forward to this for a very long, long time. One hundred years is an important event."
April's event is the town's official birthday party, and Yurich is hoping some of Oak Creek's population from the 1920s and 1930s will return for the event, especially since residents in their "Diamond Years" are being honored during the party.
"This might be the last trip home for a lot of people who lived here in the '20s and '30s - Oak Creek's heyday," he said. "They have a lot of memories."
Events will include a Women's High Tea, a tribute to veterans, dedications of the Phippsburg Rail-
road Wall and the Historical Society of Oak Creek and Phipp-
sburg museum and the setting of a time capsule that is scheduled for opening in 2017.
"The way I want it, there's going to be a lot of stuff in that time capsule," Yurich said. "It'll be the size of a small locker."
Anyone interested in submitting stories, photos, letters, articles or relics for the time capsule are encouraged to call Yurich at 736-1010 or write to P.O. Box 481, Oak Creek, CO 80467.