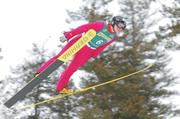 Steamboat Springs — Lindsay Van's approach to ski jumping is simple and to the point.
"I like to jump far and have fun - that's the most important thing," Van said after winning the women's national ski jumping title on Howelsen Hill's K114 hill Saturday morning.
But the Park City skier didn't let a good time get in the way of winning her third straight national title, or making a point during the 2007 Nature Valley U.S. Ski Jumping and Nordic Combined Championships.
While the rest of the women's field, which included six jumpers, opted to start from a higher gate - seven gates to be exact - than the men's field, Van didn't. She jumped 108 meters, starting from the same place as the men. Her result was the third longest in the women's field and would have placed her seventh in the men's field.
"Sometimes you just have to make a little point and see what will happen," Van said. "My first jump wasn't that good, and the second was just a little bit better. But they were nothing special. I wanted to go up there and prove that I could jump with the boys, but my coach encouraged me to move up with the girls for the second jump."
On that effort, Van cleared 111.5 feet and erased the advantage her teammate Avery Ardovino had gained in the first round. Ardovino jumped 98.5 meters, and slipped back to second.
"I had a good first jump, but then I got a little too anxious and kind of killed it the second jump, but it was OK," Ardovino said. "This winter, I started jumping a lot better, and I've been up there, but Lindsay is normally leading. It's really exciting knowing that finally the girls are going to get money and be treated just like the guys. It's cool."
Other top finishers in the women's field included Alissa Johnson in third, Brenna Ellis in fourth, Abby Hughes in fifth and Brittany Rhoads in sixth. All of the women jumping Saturday came from the Intermountain Division out of Park City.