Photo Gallery
Penguin Plunge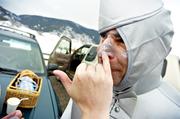 Steamboat Springs — For Stan Urban, the end of the pool couldn't have been farther away.
"It was like that hallway scene in (Stanley Kubrick's) 'The Shining,'" he said. "You jump in and say 'What am I doing?' and then you look at the length of the pool and it just kept expanding. It wasn't a pool, it was an aisle."
Urban was one of nine Land Title Guarantee Co. employees who, along with 14 other teams, braved cloudy weather, rain and 35-degree swimming pool water to participate in Saturday's Fourth Annual Penguin Plunge at Lake Catamount Ranch and Club.
The annual fundraiser raised about $50,000 and benefits the Healthcare Foundation for the Yampa Valley. This year's funds will go toward purchasing a SonoSite Ultrasound for the Yampa Valley Medical Center's emergency room.
Urban's team won best costume for dressing up like the characters from "The Wizard of Oz" and entertaining the spectators with an elaborate skit before entering the pool, although he said winning is not what Saturday's dip was about.
"It's about having fun and raising money for a good cause," he said. "This is so much fun, and that's what it is all about - having fun."
Pegi "Pengy" Simmerman, who raised the most money for the plunge by raking in $6,000, agreed.
"What we're working for is the hospital," she said. "I feel great because I met my goal, and this is the type of fundraiser that everyone benefits from."
Simmerman promised those who made donations that she would make extra jumps if the donors donated more money than last year. In the end, Simmerman ended up taking the plunge, which she described as "full of anticipation and excitement," six times.
"It's cold," she said of forcing herself out of a nearby hot tub and back to the pool. "It's pure adrenaline, especially this year, because I knew I had more than one jump to make."
Bonnie Bunker, special events coordinator for the Healthcare Foundation for the Yampa Valley, said she was amazed at how enthusiastic this year's penguins were to make the jump.
"I'm blown away," she said. "It just keeps getting better and better. The best part about it is how much the teams seem to be getting into it."
In addition to "The Wizard of Oz" characters, there was a Titanic-themed group, several groups of penguins, a group of oil dippers complete with oilcan and the Starbucks girls in their 1980s prom dresses, among others.
As the Wicked Witch of the West, Lindsay Peny was glad her green makeup withstood the chilly waters, but was even happier to get out of the pool.
"You know what? You get a couple of cocktails in you, you psych yourself up and you just jump," she said of her approach to making the plunge. "Once you're in, though, it's like you're moving in slow-mo. It was so cold."
Peny's jump was her first, but won't be her last, she said.
"That's why I moved to Steamboat Springs," she said. "What a great thing to be involved in. I think that if you live in a small community, it's important to be involved."
-To reach Alexis DeLaCruz, call 871-4234
or e-mail adelacruz@steamboatpilot.com