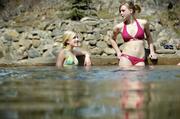 Steamboat Springs — The springs in Steamboat Springs are all natural, officials said Friday.
Old Town Hot Springs uses only spring river water and Strawberry Park Hot Springs uses a combination of spring water that is sometimes mixed with creek water.
"Our water comes out of the ground and we don't use any city water," said Pat Carney, executive director of Old Town Hot Springs. "It miraculously bubbles out of the ground and into the hot springs, and overflows from one pool to the next and eventually ends up in the river."
On Monday, the Associated Press reported the supposedly natural mineral water baths at New York's Saratoga Spa State Park have been secretly diluted with tap water for the past two decades, state officials confirmed Monday. New York state Senate Majority Leader Joseph Bruno said the report could damage Saratoga's reputation and be harmful to business and tourism.
Nothing of the sort happens in the 'Boat, springs officials promise.
The employees of the Old Town Hot Springs test the water in all their pools just as you would test any other pool, and do add some chlorine.
"The health department requires that we maintain some chlorine residual," Carney said. "And there is even a side stream that goes into the slide pool. Every pool has mineral water."
There are between 20 and 30 minerals contained in the water, which have different health benefits.
"You can absorb the minerals through your skin, which is good for a healthier skin," said Strawberry Park Hot Springs owner Don Johnson.
The water for Johnson's facility comes from a natural spring that flows down the side of the mountain into a valley, where the spring water is mixed with creek water to control the water level and temperature, said Strawberry Park gate attendant Matthew Snow.
"It is all natural and we control the temperature with a manual gate that lets the cold (creek) water into our pools."
The pools are cleaned once a week with a power hose and the water is constantly moving through the pools, so it does not stagnate.
"The one thing that separates us from other hot springs is that we do have sulfur, but it is so low that it is fragrant free," Snow said. "And our mineral content is really low, so you're not getting really dirty with minerals."
All of the pools are built out of stone and the bottoms of the pools are covered with sand.
"It's an all-natural environment," Snow said. "It's a very, very relaxing place with beautiful scenery."
- To reach Allison Plean, call 871-4204
or e-mail aplean@steamboatpilot.com