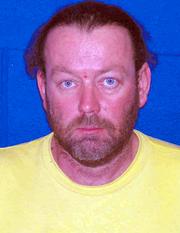 Steamboat Springs — Routt County officials identified a resident classified as a sexually violent predator as 45-year-old Ronald Eugene Noel during a community meeting Friday at the Steamboat Grand Resort Hotel on Friday night.
The meeting, called by the Routt County Sheriff's Office, was part of a public notification process required by law to identify sexually violent predators living in a community.
Sheriff Gary Wall explained to the 200 people who attended the meeting that Noel is legally living in his white Chrysler LeBaron at 20755 Routt County Road 205, west of Milner off U.S. Highway 40. He works as a laborer who cuts and hauls logs to Montrose. Wall would not release the name of the business Noel works at to protect the business from retaliation.
During the 1.5-hour meeting, Wall, Steamboat Springs police Capt. Joel Rae, Advocates Against Battering and Abuse Excutive Director Diane Moore and a representative of the Colorado Division of Criminal Justice, educated the community about sexually violent predators. They explained how to help victims of sexual crimes and why Colorado requires law enforcement agencies to inform communities about sexually violent predators.
A sexually violent predator is the most severe classification given to a sex offender.
Noel, who registered as a sex offender with the Sheriff's Office in October 2006, was convicted in Oregon in 1998 of first-degree sexual abuse on a girl who was between the ages of 5 and 8. The girl knew Noel, Wall said. It is Noel's only sexual conviction, he added.
Bill Fritsche, who is Noel's attorney, said the crime Noel was convicted of did not classify him as a sexually violent predator. Noel was given the status because he failed to register as a sex offender in Oregon, Fritsche said.
Fritsche said he spoke to Noel on Friday and that Noel wants the community to not be afraid of his presence in Routt County.
"He said, 'The county does not need to be afraid of me,'" Fritsche said. "(Noel) is within himself. He doesn't strike me as a dangerous guy. He strikes me as very mellow."
Wall and Rae conveyed messages that any retaliation or vigilantism against Noel would not be tolerated, and that such behavior could be worse for a community because it forces the sexual offender "underground."
"Vigilantism, harassment, threats and intimidation are counterproductive to the best interest and safety of the community," Wall said. "We don't want sex offenders to be driven underground. We want them to be visible. We want to know where they are."
After the presentation, people were allowed to write down questions, which the panel answered as openly and honestly as possible.
Many questions referenced the safety of the community's children, and what parents should do to protect their children.
"When I find out a sex offender has moved into Steamboat, I take the picture home and educate my kids," Rae said. "We don't want to let people change our lives. It's not, 'Oh my God, I can't let the kids go outside.' It's not about that. It's about education."
Rae suggested parents explain the situation to children and how to be safe, but to avoid frightening details.
Sexual offender registries are available for viewing at the Routt County Sheriff's Office, the Steamboat Springs Police Department and on their Web sites as well as on the Colorado Bureau of Investigation Web site.