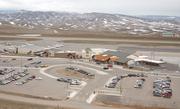 Hayden — How things have changed at the Yampa Valley Regional Airport.
Standing in the new 23,500-square-foot addition at the airport, Ron Nereson recalled the new passenger check-in area was where a barn, chicken house and bunkhouse were located when the land was part of his family's farm.
YVRA was built in 1966, but today he still lives on and farms the land on the south side of the airport fence.
"This is something," Nereson said. "When I was first flying out of here, I could walk out of my house, onto the runway and walk onto the plane."
The diverse group of community leaders attending the grand opening of the "new" airport Friday evening demonstrated just how important YVRA is to the region.
"It really does put Northwest Colorado on the map," said Pat Holderness, a Hayden resident and former Routt County commissioner.
Holderness was 34 when YVRA had its first grand opening. Her in-laws sold their land to the county so the airport could be built and they were on the maiden Frontier Airlines flight into YVRA.
"It was a big celebration," Holderness said. "People were taking plane rides and helicopter rides."
Holderness had her 6-year-old daughter and son at the 1966 opening. Today, daughter Ann Copeland is the airport's terminal and operations manager.
Complimentary helicopter rides were once again part of the grand opening Friday.
Guests at the grand opening included former and current Routt County commissioners, state Sen. Jack Taylor, R-Steamboat Springs, officials from the town of Hayden and cities of Craig and Steamboat, Steamboat Ski and Resort Corp. and airport employees.
"It's definitely a big relief to have things come together," said Dave Ruppel, YVRA airport manager. "I think the biggest difficulty was having to be able to operate while construction was still going on."
Construction started in spring 2006 and the new facility opened to passengers in February.
Airport employees and county officials have been noticing the same reaction from passengers.
"Mostly it's 'boy it's a real airport now,'" said Routt County Manager Tom Sullivan.
Along with a new check-in area, the airport has added aircraft parking that can handle Boeing 757s, relocated the gift shop and food area, and built a roomy area for passengers to wait for their planes to board. The parking and drop-off area was also reconfigured.
"I'm really proud to be in a new airport facility, and I'm proud of what's going on," said Andy Wirth, Ski Corp. vice president of sales and marketing. "Our company and the success of the valley are tied to this."
A new airport logo was revealed and items to be put into a time capsule to be opened in 25 years were displayed. Gratitude was expressed to all those who worked on the project, including Ruppel, who tried to keep things running smoothly at YVRA during construction.
"I think we're very fortunate to have someone of his character and quality running the airport," Taylor said.