Past Event
Saturday, March 24, 2007, 6:30 p.m. to midnight
Perry Mansfield Performing Arts Center, 40755 County Road 36, Steamboat Springs
All ages / $5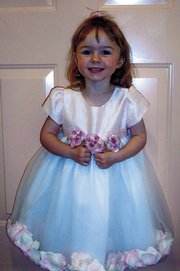 Steamboat Springs — For the first time since January, little Molly Look is ready to meet her public.
"She's very excited," said Tina Segler, who is organizing tonight's benefit for the toddler. "She knows it's a party for her."
The Benefit for Molly Look is from 6:30 p.m. to midnight today at the Steinberg Pavilion at Perry Mansfield Performing Arts School and Camp. The benefit, which will include food, drinks, door prizes, a silent and live auction, live music and entertainment, is the second to be held benefiting Look and her family.
Molly, 3, is still recovering from frostbite after spending about 30 minutes outside in subzero temperatures Jan. 17.
Bob Printy, Molly's maternal grandfather, said she has since lost four fingers and her thumb on her right hand, and the index and pinky fingers and part of her thumb on her left hand. She also lost part of her right big toe.
Molly's family, including her parents, Del and Yvette Look, were in Denver on Friday so doctors at Denver Children's Hospital could work on saving Molly's right pinky finger.
"(Del and Yvette) are just so happy she's on the road to recovery now," he said. "It looks like just about everything that has happened, has happened."
Segler said she has never met Molly Look, but, along with other community members, is eager to see her tonight.
"From what I hear, her spirits are high and she's doing excellent," she said.
A previous fundraiser in February raised around $20,0000 to help the Look family with medical costs because the family does not have insurance.
"Every dime will go to (Molly's) family immediately," she said. "We're hoping to raise more than the last one for them."
The benefit is family-friendly, and Watoosie the Clown is scheduled to entertain children from 6:30 to 8:30 p.m. There are more than 60 silent auctions items that have been donated to the benefit as well as door prizes and three "major" live auction items that include a four-day excavation package with three workers and three construction machines, a professionally cooked meal for four and Colorado Avalanche tickets in a luxury box for the April 7 game. The band "Blue Dahli" will perform.
"It's going to be quite a deal and it's getting bigger as we speak," Segler said.
The benefit is open to the public, she added.
Printy said his family can't express enough the gratitude they feel for all the community support they have received the past few months.
"The family is so totally grateful to the community and the people for all they have done," he said. "It's just been a fantastic outpouring. We live in a tremendous community."
- To reach Alexis DeLaCruz, call 871-4234 or e-mail adelacruz@steamboatpilot.com