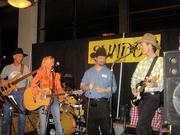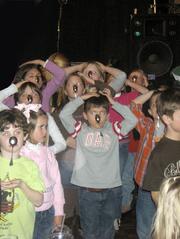 Sundog rocks the night
Colby Nalder, my waiter at the Western BBQ on Sunday night gave some of the best advice a server has ever bestowed upon me. "The macaroni and cheese is on the buffet on the far side, and the other side has baked beans."
The mac and cheese tip wasn't the only thing he did that impressed me. Nalder sang a Johnny Cash song (very well) at the end of the night with the band Sundog - a group that knows how to make sure its audience has a good time.
Guitarist Chris Koebnick had a spoon sticking out of his cowboy hat throughout the band's spoon-hanging (from your nose) contest, and he gave an official can of Sundog sauerkraut to the young winner.
I can't remember the last time I heard the Hokey Pokey or saw so many happy children. They were up there dancing with their parents and slow dancing like only young children can - the whole arm's-length-middle-school-slow-dance maneuver. It was priceless.
Sundog's Deanna Webb Koebnick and Randy Kelley taught the Boot Scootin' Boogie and honored every song request.
Maybe I spend too much time interviewing pretentious boy bands, but Sundog was down-to-earth and a refreshing change.
And did I mention that the food was fabulous? They had those tender barbecue ribs where the meat fell off the bone, juicy prime rib and, of course, the awesome mac and cheese. There even was warm apple cobbler.
The Western BBQ was the most fun dining experience I've had at 9,000 feet - and the evening gondola ride didn't hurt.
Early night
Friday night was the first time I've left a concert before it started. My friend and I went to see Sister Hazel at the top of the gondola. We entered the third floor of Thunderhead into a sea of out-of-towners. The band was 40 minutes late, and it felt like we were at a real concert in the real world where you didn't recognize anybody. People were wearing a lot of perfume, and the audience seemed apathetic. It was strangely frightening in a town where every venue feels like "Cheers." So we salvaged the evening with a couple pieces of pie from the Village Inn, went home and watched "Borat."