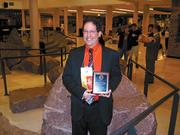 Steamboat Springs — This weekend's Colorado state speech tournament featured a little more than Steamboat Springs High School forensics coach Marty Lamansky expected.
Lamansky was honored with the Colorado High School Activity Association's Sharon Wilch Lifetime Achievement Award. The award is given to forensics coaches who are dedicated to furthering the success of speech throughout Colorado.
"I had no idea about the award until the person on the stage was reading my own biography out loud," Lamansky said. "It was the first presentation, so I was in a daze for the rest of the ceremony."
The award is not given out annually. Other coaches from around Colorado recognized Lamansky for his impressive skills when working on committees, mentoring new speech coaches and presenting coaching tactics at conferences.
"He is well respected throughout the state for his knowledge, skills and encouragement of students as well as coaches," State Tournament Director Jim Dornan said during the award presentation Saturday. "I consider him a friend, a mentor and a great forensics coach."
Lamansky has coached speech for 27 years. During that time, he has attended 25 consecutive state tournaments and appeared in 17 national tournaments.
"It's about time," high school speech team member Ashley Lopez said about her coach's award. "I can't think of a more deserving coach."
Lamansky wasn't the only Sailor to appear at the state tournament in Fort Collins. Four of the team's members qualified for the state competition - Parker Stegmaier, Paula Ninger, Jeff Lambart and Lopez. It was the first appearance at state for Stegmaier, Ninger and Lambart. It was Lopez's third appearance.
Lopez placed second in International Extemporaneous Speaking out of a field of 38 students, falling only to the reining national champion in the event from 2006. Her strong finish ensured Lopez a spot at national qualifiers on March 30 and 31 and was an improvement from her sixth-place finish last year.
"When I heard them announce my name, I was so surprised," Lopez said. "I was expecting third or fourth place, not second."
Coming in first after the three preliminary rounds, Lopez dropped to sixth after semifinals and then rose back to second place in the finals. Speakers from the Western Slope League dominated the event, taking the top three awards.
"Three years at state is very unusual and extremely difficult," Lamansky said about Lopez's impressive history at the state tournament. "Finishing second is amazing."