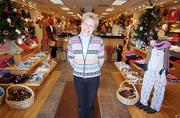 Jennifer Wilson has owned Moose Mountain Trading Co. in downtown Steamboat for 13 years, but immediately after attending a business seminar in September, she decided it was time to make some changes.
Wilson said her business was in danger of stagnating, but the changes have paid off significantly and she is re-energized about her business, which sells women's apparel, accessories and gifts with a moose motif. Wilson shared her success story with fellow business owners during a Main Street Steamboat Springs general membership meeting, and encouraged them to attend a seminar taught by Jon Schallert.
Main Street hosted Schallert last spring for a half-day seminar about making businesses unique to attract destination shoppers. "If you are a strong unique business, people will find you," explained Tracy Barnett, Main Street's program manager.
Last September, Wilson attended a three-day boot camp put on by Schallert.
Now, Barnett is trying to recruit a Steamboat contingent of business owners to attend Schallert's next seminar.
Wilson said there were 36 people at the seminar she attended. The attendees represented a variety of businesses including a law firm, financial planners and restaurants. One woman ran a dance studio in Hollywood. Topics covered everything from Web development to advertising.
"In a way, it was like trying to take a sip from a fire hose of ideas," Wilson said.
After the seminar, Wilson changed her direct mailing and advertising materials to add some humor and to "just have fun with it."
"It's an example of taking it out of the box and doing something different," Wilson said.
Wilson said her sales have improved since she began implementing changes that Schallert taught her and the $1,195 conference fee was worth it. In December, she said her sales were up 12 percent.
Wilson said Schallert was a dynamic speaker who is a strong proponent of people becoming experts in their businesses. His advice and guidance was timely given the changes taking place downtown.
"There is 90,000 square feet of retail coming online (downtown), and there is some fear of 'who's going to open a store like mine,'" Wilson said. "But I'm too busy figuring out what I'm going to do with my business. It's kind of a bad attitude to worry about things I can't control."
Barnett said Wilson's business practices and enthusiasm could serve as a model for others.
"One of my concerns is that many of our businesses have been limping along or are stagnant," Barnett said, "and it's going to become a more competitive environment."
- To reach Matt Stensland, call 871-4210
or e-mail mstensland@steamboatpilot.com