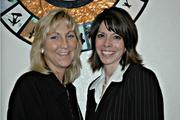 The paths Rhonda Sweetser and Gina Zabel took to becoming principals were similar, but both came to the realization they wanted to be administrators at different times and for different reasons.
On Wednesday, the Hayden School Board unanimously approved the hiring of Sweetser as the principal at Hayden Valley Elementary School. They also unanimously approved the hiring of Zabel as principal at Hayden Middle School.
There was no discussion, and the women were the only candidates to interview for the positions.
Both women held an advantage over anyone on the outside; they were internal applicants with essentially three years of experience at their respective schools.
In 2004, Sweetser was hired as a teacher/leader for the elementary school when elementary Principal Mike Luppes assumed superintendent duties for the district. Sweetser did not have a principal's license, so Luppes technically remained principal but Sweetser spent the next three years learning how to be a principal.
She will have her principal license in May from Western State College.
Zabel was hired as dean of students at the middle school in 2004, so she, too, has spent the past three years learning how to be a principal.
Zabel will have her principal's license in May from Adams State College.
Troy Zabel, Gina Zabel's brother-in-law, will remain the principal at the middle and high schools through the end of the year. Next year, he will be the high school principal.
The hiring of Sweetser and Gina Zabel was more a technicality than anything because they had been serving as the building principals at their respective schools for three years.
"I think it's a natural transition," Gina Zabel said.
Zabel knew she wanted to be an administrator for years. In 2000, she left the classroom to do some literacy consulting work for the Northwest Colorado region. She returned to the classroom in 2003, but she has retained a love for being in an administrative role.
Despite being a principal, Zabel, who received an elementary education degree from the University of Northern Colorado and her master's from Adams State, will still teach literacy in small groups and do enrichment and intervention programs.
Sweetser, on the other hand, will give up her Title 1 position, which she said she will miss.
Sweetser graduated from Hayden High School in 1983 and received her elementary undergraduate degree from Western State and her master's from Grand Canyon University.
"It's an awesome staff," Sweetser said of the elementary school teachers and support personnel. "That makes a world of difference."
Luppes, who handed in his resignation letter to the board Wednesday, said he believes the future of the district is bright with Sweetser, Gina Zabel and Troy Zabel leading the way. All principals have one-year contracts in Hayden, and the salaries for the principals have not been set for next year.
- To reach Melinda Mawdsley, call 871-4208 or e-mail mmawdsley@steamboatpilot.com