Photo Gallery
Come, Let's Dance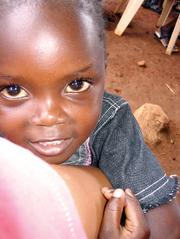 Come, Let's Dance is raising money for 80 Ugandan orphans with their dance fundraiser Saturday night. The nonprofit will use the proceeds towards purchasing 20 acres of land with they will set them up with organic farming and some houses.
Past Event
Saturday, March 24, 2007, 7:30 p.m.
The Steamboat Grand, 2300 Mount Werner Circle, Steamboat Springs
All ages / $100
Shane Gilbert doesn't want to raise money to build orphanages in Uganda. Her goal is even bigger.
"Americans have been building them for years where they get three meals a day, a bunk bed and get to go to school," Gilbert said. "But kids will lie just so they can eat. I believe Come, Let's Dance can get to the root of the orphan crisis."
Gilbert is the founder and executive director of Come, Let's Dance, a nonprofit organization that is committed to building a self-sustainable community for more than 80 orphans in Kampala, Uganda. She is hosting a dance fundraiser Saturday night at the Steamboat Grand Resort Hotel with blues singer Hazel Miller, who Gilbert calls the Aretha Franklin of today.
"Hazel is specifically interested in orphans in Uganda because there are twice as many as in any other African country," Gilbert said. "There are about 2 million in Uganda and 20 million in Africa."
Gilbert thinks there will continue to be an endless amount of orphans because of poverty, the 20-year war in Uganda and the AIDS epidemic.
"The family structures are breaking down because of promiscuous mothers who quit their kids," said Julie Deboer, who was part of the 2006 relief team. "They beg with their children 'til they are four years old, then abandon them and have another kid."
Teaching each community how to be self-sustainable is the primary goal of Come, Let's Dance.
"We're hoping to buy 20 acres of land where they can do organic farming and build a couple houses," Gilbert said. "And we want to start enough micro-businesses so they can cover all the bills and not be constantly depending on foreign aid."
The fundraiser also will serve as a celebration of what the organization has accomplished in the past year and a half.
"All the kids are in school, have clothes on their backs and lots of projects have been started," Gilbert said. "It's a thank you party, and we want to show that this cause doesn't have to be portrayed as people dying with flies on their face."
"I wish we could have the celebration with the children," Deboer added.