Chat with Pat
Got a question for Pat Carney? Participate in our online chat with her at 2 p.m. Friday. You can submit questions in advance.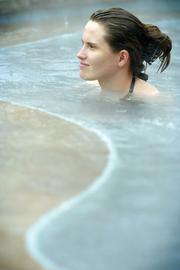 If you go
What: Meeting of the Steamboat Springs Planning Commission, including a review of renovations to the hot pools at the Old Town Hot Springs
When: 6 p.m.
Where: Centennial Hall, 124 10th St.
Contact: Call city planning offices at 871-8258 for more information.
Steamboat Springs — Another local construction project is proving to be much costlier than expected.
Less than a month after the new Steamboat Springs Community Center was bid at more than $1 million over budget, Steamboat Springs Health and Recreation Association Director Pat Carney said Wednesday renovations of the hot pools at the Old Town Hot Springs, at Third Street and Lincoln Avenue in downtown Steamboat, could cost about $1 million more than originally estimated.
Carney said the original $2.5 million cost of the hot pool renovations was an estimate made two years ago and "not based on hard costs." The project's new price tag is $3.5 million - another example of rising construction costs in the midst of Steamboat Springs' booming development.
"I think everybody is experiencing this," said Tom Leeson, director of the city's planning department.
The Steamboat Springs Planning Commission is scheduled tonight to review the hot pool renovations. Pending city approval, the renovations would include two new waterslides, both shorter than the current slide; more natural elements, such as trees and landscaping; and the combination of existing hot pools into a large, curving pool spanned by two bridges. Denver architectural firm Sink Combs Dethlefs designed the renovations, which would close the hot pools from April until November.
TCD Inc. of Steamboat is the contractor for the renovation project.
Carney said some of the 5,500 local members of the Old Town Hot Springs have expressed false concerns about a widespread closure of the recreation center.
"The only things that will be closed are the hot pools and the (existing) waterslide," Carney said. "The big outdoor (lap) pool will be totally open."
A flier mailed to members March 1 explained the renovations, which Carney and Old Town Hot Springs officials also detailed in a series of public meetings in recent months.
Carney said two large, adults-only hot tubs will be placed outside near the lap pool. Each tub will hold seven or eight adults, Carney said. Cardiovascular exercise equipment located on the recreation center's second floor will be moved to other areas of the center - such as the bicycle "spin" room that is not used in summer months - while the entrance to the new waterslides is built.
"Everything is going to be there, it just might be harder to get to it," Carney said.
Carney said some Old Town Hot Springs members, such as those not currently using group discount rates, can receive compensation such as a free one- or two-month extension of an expired membership. But she declined to discuss specifics of the compensation, saying it is a sensitive issue that the Old Town Hot Springs Board of Directors has not yet finalized.
"We are doing things to try and help membership, but we're in a financial bind ourselves," Carney said. "We're trying to do the best we can for our members, but in a way that we can survive this with some money coming through the door - it's a delicate balance. Members can get more information when they come to the front desk."
Carney has said the health and recreation association can borrow about $4 million, and has about $600,000 saved for construction.
"We realize what a hit we're going to take this summer," she said Wednesday. "We're asking the members to stay with us on this."
- To reach Mike Lawrence, call 871-4203
or e-mail mlawrence@steamboatpilot.com