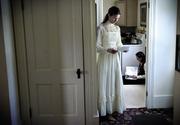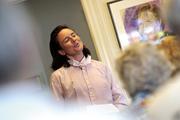 Steamboat Springs — Chrissie Hodges said it was easier to portray Margaret Duncan Brown because of her southern accent, but she could relate more to playing the personality of Emma Hull Peck.
Both were pioneer women who helped shape the Yampa Valley and were emulated Tuesday in the Tread of Pioneers Museum's "Lovely Local Ladies" program.
"I am thoroughly impressed with Emma, who started the Routt County teacher's association," Hodges said. "She was this powerhouse teacher and superintendent of schools. That - as a woman in the 1800s - was unbelievable."
Local women delivered enchanting and humorous monologues from the characters of Brown, Peck, Eleanor Bliss, Dorothy Wither, Marjorie Perry and Lulie Crawford.
Some of these women lived with no central heating, electricity or running water and played many roles in the community.
"It wasn't uncommon to help out with family problems, deliver a baby or even close the eyes of the dead," Hodges said as Peck.
The readings also gave spectators a glimpse into their unique personalities.
"People would always tease me that I was no bigger than a minute," Hodges said as Peck.
Wither, who owned the Dorothy Shop, knew everyone's dress and shoe sizes. Crawford had pets such as elk calves, Sandhill cranes, mountain lion kittens, eight wild geese and snakes.
"All spent time in the cabin with us, except for the snakes," said Marianne Capra as Crawford.
Some residents attended the program because of their love of Routt County history. Madeleine Vail has read many of the books that have been published about these women, but she said it was great to hear so many of their stories packed into a short time frame.
"It gave a nice perspective of who overlapped and who knew whom, and also on the progression of history," she said.
The event was the third annual "Lovely Local Ladies" program the museum has put on during Women's History Month.
"These women reveal the beauty and spirit of the Yampa Valley and formed the foundation of the rich cultural heritage we experience today," said museum executive director Candice Lombardo. "We seek to honor the women who serve as an inspiration to us all."