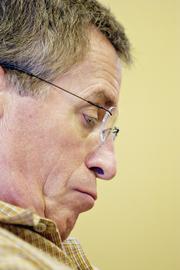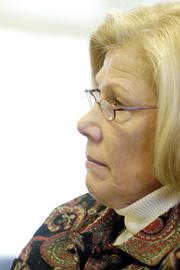 Steamboat Springs — Three hours of facilitated discussion Tuesday could not resolve the differences between the Steamboat Springs School Board and Superintendent Donna Howell. Instead, both sides agreed to end the special public meeting early and continue it next week behind closed doors.
Facilitator Ken DeLay, who is executive director of the Colorado Association of School Boards, was in Steamboat on Tuesday to lead the discussion between Howell and the School Board. The relationship between the two sides has deteriorated recently, particularly after a disagreement over how and why an administrator's resignation letter was released to district staff.
DeLay will return to Steamboat on Monday to continue the discussion in secret. Several School Board members said Tuesday that they didn't feel comfortable voicing some of their concerns in an open forum, and Howell, who would be the subject of most of those concerns, asked for the board to continue the conversation behind closed doors.
DeLay's services likely will cost the district as much as $1,000.
He said Tuesday he did not know the relationship between Howell and the School Board had deteriorated as much as it has.
"I don't think I understood they were at the pass they are at," he said. "You won't be able to move forward without an executive session to delve into personnel matters. The executive session isn't to protect the board as much as it is to protect the personnel."
DeLay suggested the board reschedule for Monday because it had not included an executive session as part of Tuesday's meeting agenda and because he thought Howell needed time to prepare for the conversation.
"I think it's fair to say it will be a tough conversation," DeLay noted.
Before Tuesday's talks stalled, Howell and the School Board tried to get to the crux of the problems between them.
The conversation began with how Howell handled the recent resignation of director of curriculum and instruction Kelly Stanford. Stanford is the wife of Steamboat Pilot & Today editor Scott Stanford.
Howell said she forwarded Stanford's resignation letter - which was critical of the School Board - to district staff and the board via e-mail because she thought that was the best way to share the news.
Howell also said she was under the impression most people in the community already knew Stanford had resigned because Howell was approached at the supermarket and at district schools and asked about it.
School Board members expressed their displeasure at Howell's release of a letter that contained what board member Jerry Kozatch called "inflammatory" words directed toward the School Board.
School Board President Denise Connelly said it was not district policy to distribute resignation letters via e-mail, particularly before the letters appear in the School Board's meeting packets. Board member Jeff Troeger added that it appeared as if Howell deliberately sent the letter because it was negative about the board and positive about her.
"The perception is she went to the public arena with an issue that would look favorable to her," he said. "I'm still upset about it."
Howell disputed those perceptions.
"There was a perception that I did it to undermine the board because the board was being portrayed negatively," Howell said. "I took offense to that because I was trying to communicate to the board. : In hindsight, I might not have sent the whole thing."
DeLay then asked other board members for their feedback.
"I heard what (Donna) said," board member John DeVincentis said. "I still don't believe her."
DeLay suggested the School Board move on to other issues, but Troeger and DeVincentis said they wanted the issue addressed because the board needed to get information on specific issues rather than touch on subjects and move on.
Earlier in the meeting, several board members said the primary concern was a clear idea of roles and responsibilities within the district.
"One of the major hang-ups is someone needs to understand their role," DeVincentis said. "My sense of what's going on is there is an attempt to undermine the board through me. We have tried to keep things quiet, and that hasn't occurred."
Troeger and DeVincentis said several times Tuesday that they thought an executive session was necessary because open dialogue between the School Board and Howell could not happen with the presence of a newspaper reporter.
"If it's not working between the board and the superintendent, it's not working for the district or the community," DeLay said. "A pretty high level of trust (is needed for an optimal board and superintendent relationship). There is a sense here that people are doing things to not work together."
The School Board was scheduled to meet today and Thursday for workshops on policy governance, but board members decided to cancel the meetings because they wanted issues resolved with Howell before moving forward with other concerns.