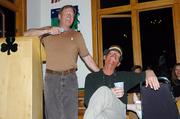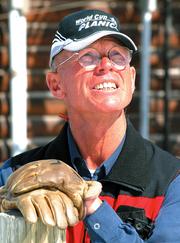 Steamboat Springs — Howelsen Hill might never be the same.
Ralph Whittum, the charismatic Steamboat Springs resident who has directed Howelsen's ski patrol since 1994, will travel to West Africa in June for a tour of service with the Peace Corps.
On Sunday, a crowd of more than 40 friends, family and co-workers gathered at Olympian Hall in the Howelsen Hill Lodge to honor - and poke fun at - a man who came to Steamboat in 1972 and helped generations of local youths safely learn how to ski and snowboard.
"It's hard to imagine Howelsen Hill without Ralph Whittum," said Larry DeNucci, the Howelsen Hill safety coordinator who will take over for Whittum next winter.
"Ralph's done it all," added Jeff Nelson, the ski and rodeo supervisor at Howelsen. "He's my hero in a lot of ways."
Whittum, a tall 62-year-old with bright eyes and a huge smile, served in the Vietnam War as a Navy SEAL. After arriving in Steamboat, he worked as a ski patroller at the Steamboat Ski Area from 1975 to 1986 before being "promoted to Howelsen" in 1993, he said.
"There were 500 kids in the (Steamboat Springs) Winter Sports Club back then," Whittum said, citing a membership that now exceeds 1,000. "The hill is just swarming with kids now."
On the slopes at Howelsen, Whittum had a front-row seat for the childhood years of local Olympians such as Todd Lodwick, Johnny Spillane and Clint Jones.
"That has been the purest pleasure of the job here - watching kids become world-class," Whittum said.
Gary Crawford, who competed in Nordic combined at the 1980 and 1988 Winter Olympics, struggled with how to describe Whittum's exuberant personality.
"I've been thinking about what to say about Ralph for 13 years - and I still don't know what to say," Crawford said.
Later in the evening, the former Olympian got an idea.
"You know, my family just got another puppy," Crawford teased, referring to Whittum's legendary pet peeve, so to speak, about unleashed dogs at Howelsen. "When you're gone, we're going to bring those dogs down here every single day."
Several members of Sunday night's crowd went to the microphone to talk about Whittum in a light-hearted, sometimes bawdy "roast" that included recollections of Whittum's booming voice counting down to closing time across the Howelsen slopes; his odorous, post-burrito rides up the gondola at Steamboat Ski Area; and backcountry ski trips to Utah that included as many adventures off the slopes as on them.
In addition to the ribbing, Whittum also received parting gifts including a full-size backpack and an inflatable female doll.
"Cameroon is in for something they've never seen before," Roger Perricone, president of the Rocky Mountain Division of the U.S. Ski and Snowboard Association, said to Whittum. "They might send you back on the first freighter out of the country."
Whittum is fluent in French and said the predominantly French-speaking country of Cameroon is a likely location for his West African Peace Corps stint.
While Whittum said his body and ailing knees are telling him it is "time to move on" from a career as a ski patroller - a career that led current patroller Michelle Mackey to describe Whittum as "a pedestal of Steamboat" - Perricone told his longtime friend that he one day will return to the place he has called home for decades.
"I'm not going to miss you when you're gone," Perricone said. "I don't think you're going. And if you do go, I know you're coming back."