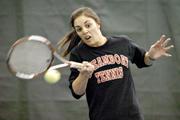 Steamboat Springs — Steamboat Springs tennis player Lisa Floyd probably should have been nervous.
Playing her first match as the team's No. 1 singles player, Floyd showed no nerves though. Instead she showed an intensity coach John Aragon said puts Floyd in a class of her own.
The end result was two wins Saturday against the top players from Delta (6-1, 6-0) and Cedaredge (6-0, 6-0).
"I won, so I shouldn't be disappointed," said Floyd, who spent four months at a tennis academy in Grand Junction playing mostly with men. "I definitely want to get a state title. This is all practice. These matches and the league are just like practice until we get to state."
Floyd's day highlighted a dominating performance for Steamboat. Steamboat beat both Delta and Cedaredge, 7-0, Saturday at the Tennis Center. On the day, the Sailors only let the opponent win two games three times and won by the score of 6-0 18 times.
"It's good to see we didn't let anyone get into a match," Aragon said. "I was real pleased the kids didn't fall into the opponents' game. We won most all of the points."
Floyd - playing in her first match of the year after missing last weekends action in Grand Junction because of SAT's - said she thought it would be a better match with Delta's Annie Chastain because she's played her before.
"(Lisa) served well and returned well and beat up on her pretty solid," Aragon said.
Aragon also pointed out the strong play of No. 3 singles player Shelby Reed and the No. 2 doubles team of Kylee Swiggart and Kirsten Brehmer.
Reed, Swiggart and Brenner did not lose a game all day.
"It's fun to play at home," said Reed, who despite winning, said she didn't play her best. "We're thinking about this like it's practice. You play good and bad players, so you have to know how to beat them all."
Aragon said with the lower doubles teams starting to come into form coupled with the Sailors top three singles players, they will make Steamboat a team to be reckon with.
"With four very solid double teams," Aragon said, "that will make us really solid club for regionals."
- To reach Luke Graham, call 871-4229
or e-mail lgraham@steamboatpilot.com