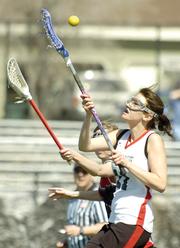 Steamboat Springs — A week of practice on an actual field, a heck of an effort from a senior leader, an impressive win and a beautiful St. Patrick's day.
Steamboat Springs girls lacrosse coach Jenn Kirkpatrick couldn't have asked for a better day.
Playing two games Saturday against Lewis-Palmer and Rangeview, Steamboat finished 1-1.
Despite an early 9-6 loss to Lewis-Palmer, Kirkpatrick was ecstatic about how her team came back against the Raiders in the afternoon tilt.
"I think we were hungry to win," Kirkpatrick said after the Sailors beat the Raiders, 17-9. "We almost had it that first game and I think this game the girls had energy. They were just so intense."
During the game against Lewis-Palmer, Steamboat played well and had the game tied at six with six minutes remaining, before the Rangers ended the game on a 3-0 run.
Senior Maria Heilner scored all six goals for Steamboat against Lewis-Palmer.
But against Rangeview, Steamboat looked like a completely different team. The Sailors dominated play on both ends of the field. Led by Heilner and Rachel Ivancie - to whom Kirkpatrick gave the game ball for her play on offense and defense - the Sailors quickly put the morning loss out of their minds.
"We felt a little down about the first game because we should have won," Ivancie said. "Against Rangeview we really solidified our catches and our passes."
Heilner led Steamboat with eight goals against Rangeview, while Kelsey Pal added five.
"We definitely dominated," Pal said. "We tried taking all the balls to the offensive side."
Kirkpatrick contributed part of the Sailors' improvement to being able to practice on Gardner Field. In what she called one of the more intense practices of the season, Kirkpatrick said the team really focused on passing, catching and winning ground balls.
Saturday, she said, showed the improvement.
"We got the feeling of playing on a field and that was huge for us," she said. "Two practices on the turf gives you a whole new feel. We had an intense week of practice.
From last weekend to this weekend, we were a completely different team."
Steamboat next plays Friday at Saint Mary's Academy.
- To reach Luke Graham, call 871-4229
or e-mail lgraham@steamboatpilot.com