Potato focus of South Routt celebration
Oak Creek centennial event celebrates St. Patrick's Day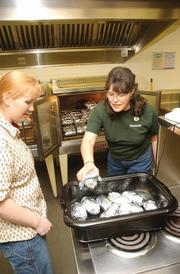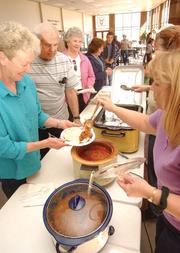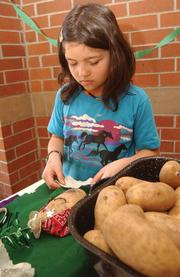 Oak Creek — Whether it's fried, mashed, baked, julienned, scalloped or twice-baked, the versatility of the potato is undeniable.
And for decades, the potato was one of the most lucrative crops in South Routt County.
"My mother used to pick potatoes for all the farmers in the area, and I remembered them telling her they only wanted the big ones," Oak Creek historian Mike Yurich said. "The pickers would go back to the fields and pick the small ones to keep for their families to last them the winter."
Alhough most people equate St. Patrick's Day with corned beef and cabbage, the potato is the real star of the holiday.
"The potato was Ireland's main crop," he said. "It was the Great Potato Famine that sent so many Irish immigrants to the U.S."
On Saturday, in recognition of South Routt's rich agricultural history and to celebrate St. Patrick's Day, a group of 4-H members baked more than 110 potatoes and set out traditional toppings such as butter, cheese, sour cream, Bacos and salsa for the Oak Creek Centennial Potato Bake.
Charlotte Whaley, who leads the 4-H Handy Lads and Lassies, said the students were excited to put on the bake. Members of the Flat Top 4-H club helped with the events, which included a potato-decorating contest.
"They wanted to do something special because it is Oak Creek's centennial and because of Louis Rossi's potato," she said. "Potatoes go good with potatoes."
Rossi, a longtime South Routt rancher and accomplished potato grower, was honored during the event for developing a special strain of seed potato dubbed the "Rossi Bliss Triumph."
Rossi passed away in 2001, but his seeds still dot the pages of seed catalogs, Yurich said.
"From what I hear, you can still get them," he added.
Yurich, whose favorite preparation of potato is scalloped, said he hopes to make the Potato Bake an annual event.
"I was really happy the 4-H kids put this on," he said. "It could be a nice annual event if they carry it on."