Photo Gallery
Steamboat Springs figure skating club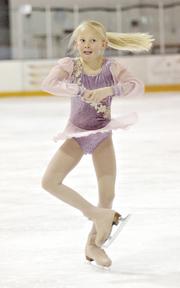 Figure skating club
Results from March 8-11 Denver Invitational.
Beginner 1 - 2. Jordan Broyhill (free skate)
Beginner 2 - 3. Caroline Wheeler (free skate), 4. Caroline Wheeler (compulsory)
Beginner 3 - 1. Clare Franklin (free skate), 1. Clare Franklin (compulsory), 2. Kayla Haggarty (compulsory), 3. Kayla Haggarty (free skate)
Beginner 4 - 1. Patricia Davie (free skate), 2. Dominique Katthain (free skate), 2. Dominique Katthain (compulsory), 3. Patricia Davie (compulsory)
Beginner 5 - 2. Cassandra Wilhelm (free skate), 4. Cassandra Wilhelm (compulsory)
Beginner 6 - 3. Jenna Miller (compulsory), 4. Jenna Miller (free skate)
Beginner 7 - 3. Hanna Haggarty (free skate), 3. Hanna Haggarty (compulsory)
Pre-preliminary free skate - 1. Ellese Lupori, 3. Sara Pugh, 4. Ellie Bender, 4. Molly Parsons
Pre-preliminary compulsory moves - 1. Molly Parsons, 1. Ellie Bender, 2. Ellese Lupori, 3. Sara Pugh
Pre-preliminary spins - 1. Ellie Bender, 3. Ellese Lupori, 4. Sara Pugh, 5. Molly Parsons
Open pre-juvenile compulsory - 5. Kasey Brown
Open pre-juvenile spins - 5. Kasey Brown
Open pre-juvenile free skate - 6. Kasey Brown
Steamboat Springs — In Callie Heil's hometown of Homer, Alaska, children figure skate on cold, winter nights on outdoor ponds.
It's a little different here in Steamboat Springs.
When Callie, 9, moved to Steamboat with her family, she looked into joining the Steamboat Springs Figure Skating Club.
"I just thought it would be fun," Callie said. "I had just moved here."
In about one year, Callie has progressed from a Level 1 skater to a Level 6 skater, so she no longer struggles on her edges. Instead, she tries her hardest to land her flips, one of many jumps skaters perform. At the end of the month, she will travel with her teammates to a competition in Fort Collins.
She is excited, and she is not the only one.
Members of the local figure skating club practice as often as four times a week and as early as 6:45 a.m. Wednesday mornings because ice time in this active mountain town is at a premium. But the girls who were at the arena last Thursday agreed they would much rather be on figure skates with a toe pick and thin edge than a bulkier hockey skate.
"Once you commit to the sport, you love it," said Molly Parsons, a freshman at Steamboat Springs High School and one of the club's veterans.
On Thursday, skaters of all ages and ability levels weaved back and forth on the ice, spinning, spiraling and jumping at the indoor Howelsen Ice Arena.
Practice for the competition season, which the club is in the midst of, began early last fall, so the chance to show off has been a long time coming
"I just love being on the ice," said Ellie Bender, 11, who placed first in the pre-preliminary competition in spins and compulsory moves at the Denver Invitational at the South Suburban Ice Arena in Centennial.
The reasons the girls gave for joining the figure skating club varied, but they all look forward to the chance to skate each week.
Kayla and Hanna Haggarty grew up around figure skating because their mother, Kim Haggarty, is a coach with the Steamboat Springs Figure Skating Club. Hanna was drawn to the sport through her mother. Kayla's love of figure skating started in true Steamboat fashion.
"I watched the Olympics and wanted to start," Kayla, 7, said.
There wasn't a particular Olympian that Kayla remembers wanting to emulate, but the international popularity of figure skating and the frequency of televised competitions or tours continually brings new generations of children - male and female - to the sport.
"I was 3 years old when I was looking at the people on TV," said Dominique Katthain, 9. "I said, 'Mommy, I want one of those dresses.' She told me I couldn't have one unless I started skating."
Dominique was wearing her gold competition dress Thursday. She picked it out herself.
"It went most with my program," she said.
Kim Haggarty said the Steamboat skaters, including Kasey Brown, who lives in Craig but trains four times a week in Steamboat, posted some of the club's best results at the recent Denver competition.
Skating before a judge is the last thing many of the girls thought about when they first joined the club, but competition is very much a part of the club's mission for those children who want to perform.
"I started about six years ago," said Cassandra Wilhelm, 10. "I've come a long ways. I use to skate on wood floors with my socks."
The Steamboat Springs Figure Skating Club is hosting an exhibition at 7 p.m. April 14 at Howelsen Ice Arena. The cost is $5, but Kim Haggarty said the price for admission will be well spent.
"This is a do-not-miss show," she said.
The show will feature skaters Ashley Clark, who has competed at the national level, and Braden Overett, whose name some may recognize from this year's national competition. He features a triple axel, one of the sport's most difficult jumps, in his program.
"It's worth the $5 just to see him skate," Haggarty said.