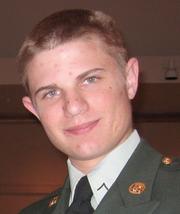 CHS student honored
by Rotary Club
Christian Heritage School senior Marc Hall was named Rotary Student of the Month at the March 6 meeting of the Steamboat Springs Rotary Club. Hall has played baseball and basketball during high school, lettering in both. Hall also was Honorable Mention Academic All-State in baseball.
Hall is the vice president of the Christian Heritage Student Council and has been involved in fundraising.
Outside of school, Hall volunteered as a youth minister at Awana's, an elementary-level religious education program organized through Anchor Way Baptist Church. Hall also has volunteered at various activities, most notably in helping to develop the Heritage Park Playground.
Hall is a private in the Colorado National Guard, so he will spend much of this summer in extended training for his public service before entering college. He will participate in the ROTC program during college and looks forward to serving in the National Guard during and after college. He has committed to the Guard for an eight-year period.
SSHS grad named
to CU dean's list
Steamboat Springs High School 2005 graduate Kimberly Smith was named to the Dean's List at the LEEDS School of Business at the University of Colorado in Boulder for fall semester 2006.
Smith is majoring in accounting.