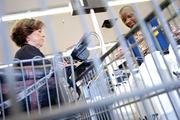 Steamboat Springs — Sales tax revenues for the city of Steamboat Springs started off in 2007 a lot better than they ended in 2006. The city reported a double-digit percentage increase in revenues collected during January 2007 compared to January 2006.
The 12.4 percent increase includes a total of $2,035,835 in sales tax receipts, according to a sales tax report prepared by the city. It was only the second time in the past eight years that January revenues had a double-digit increase compared to the previous year - and it's a sign that Steamboat's economy is continuing to grow.
"They were strong numbers and surprising to the extent that last January was pretty strong as well," city Finance Director Don Taylor said. "We've had strong back-to-back Januarys."
In January 2006, sales tax receipts were up 12 percent compared to 2005's numbers. It was the first time January had netted a double-digit increase since 2001. In the following years, January receipts were in the low single digits, bottoming out at 0.2 percent in 2003.
The 12.4 percent January increase was a welcome sight, especially after December's receipts initially were reported as being down compared to December 2005. That broke the streak of more than three years of increasing revenues. But the city has since revised the December number to reflect a 0.4 percent increase from December 2005.
"I wasn't concerned, but I think some people were just looking at the numbers," said Sandy Evans Hall, executive vice president of the Steamboat Springs Chamber Resort Association.
The low December increase and the substantial January increase had a lot to do with the timing of the holidays, Hall said. The holiday tourism season spilled over into January, which the Chamber and Steamboat Ski and Resort Corp. forecasted.
Hall also said a high level of consumer confidence contributed to strong January numbers and people are willing to spend more on lodging.
"If you are more confident in your financial well-being over time, you're more willing to let go of more of those discretionary dollars," Hall said.
In the city's sales tax report, revenues and increases are broken down by area. The U.S. Highway 40 corridor revenues were up 22.5 percent, and the mountain area revenues were up 16 percent.
Downtown revenues were up 1 percent. That is consistent with recent months, but Hall thinks that will change soon with more people working downtown on the numerous new development projects.
"The construction itself will cause an upsurge in spending downtown," Hall said.
- To reach Matt Stensland, call 871-4210
or e-mail mstensland@steamboatpilot.com