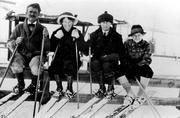 Steamboat Springs — Steamboat Springs history is chock full of colorful and influential women, and some of them will be on display - kind of - next week at Tread of Pioneers Museum.
"In celebration of March being Women's History Month, we like to feature the women who are important to this community's history," said Candice Lombardo, the museum's executive director.
At noon and 5:30 p.m. Tuesday, the museum is hosting "Lovely Local Ladies," a program that will feature character monologues depicting the lives of some of Routt County's most influential women. Those figures include Eleanor Bliss, Emma Peck, Dorothy Wither, Marjorie Perry, Margaret Duncan Brown and Lulie Crawford.
"One of the more notable themes in Steamboat Springs' history is the story of Perry-Mansfield (Performing Arts School and Camp)," Lombardo said. "Charlotte Perry and Portia Mansfield started Perry-Mansfield, but Charlotte's sister Marjorie Perry discovered Carl Howelsen."
Perry met him in Hot Sulfur Springs and brought him back to Steamboat.
"It was him coming here that started Winter Carnival, the first (Steamboat Springs) Winter Sports Club and he started ski jumping in this area," Lombardo said. "Typically, people were just skiing for transportation at the turn of the century. Howelsen taught people to have fun and changed recreational skiing as we know it in this valley."
Tread of Pioneers Museum has printed free, inspirational bookmarks with quotes from Brown's novel "Shepherdess of Elk River Valley" to help educate the community about the contributions of our founding women. The bookmarks are available at Off the Beaten Path Bookstore, Bud Werner Memorial Library and Epilogue Book Co.
"We have a fascinating history connected to women," Lombardo said. "This is our way of honoring them."
- To reach Allison Plean, call 871-4204
or e-mail aplean@steamboatpilot.com