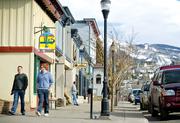 Speaking of trees
The National Arbor Day Foundation has named Steamboat Springs a "Tree City USA" community for the 16th year. The four criteria for a community to achieve Tree City recognition are having a tree board or department, a tree care ordinance, a comprehensive community forestry program and an Arbor Day observance.
"Tree City USA designation recognizes the work of elected officials, staff and citizens who plant and care for the community forest," Arbor Day Foundation President John Rosenow said.
The city will celebrate the recognition at its annual Green-Up/Clean-Up Day on June 2.
Steamboat Springs — The future of Lincoln Avenue through downtown Steamboat Springs is shady.
City officials want consultants to design Lincoln Avenue improvements such as increased trees, improved curbs and sidewalks, and better benches, bus stops and bike racks. The plans also could suggest locations for a future downtown parking garage and the removal of parking spaces on one side of the street to widen Lincoln Avenue.
Jim Weber, the city's director of public works, said he is reviewing eight responses to the city's request and hopes to begin interviews for the multi-year project in coming weeks.
The proposed design improvements would cover an area that stretches along Lincoln Avenue from east of Third Street to 13th Street, and north to south from Oak Street to Yampa Street.
Weber, city Purchasing and Risk Manager Anne Small, and Main Street Steamboat Springs are collaborating on the project, which is about more than elms and oaks.
"We are looking for a plan that presents innovative design options that are beyond the standard 'tree/streetlight' streetscape," reads a scope of work prepared by Main Street and city staff. "The plan should propose functional and aesthetic streetscape, sign, roadway and drainage elements that
facilitate traffic flow, enhance pedestrian circulation, acknowledge bicycle travel, facilitate business vitality, foster a sense of community, and accentuate the identity of the downtown district."
Weber said the city's Mountain Town Sub-Area Plan, adopted in 1999, spurred the need for downtown design improvements.
"That started off a lot of the discussions that are taking place," Weber said.
The plan identified the base of Steamboat Ski Area, the U.S. Highway 40 corridor and downtown as three distinct areas for design upgrades. The city implemented its Urban Renewal Authority at the base area in 2005 to fund public improvements that will begin this summer. The city is currently working with Denver-based consultants Clarion Associates and Civitas, Inc. to improve design standards along U.S. 40 at entryway areas into Steamboat.
Weber said the numerous construction projects slated for downtown also are driving the need for new, unified design standards. Projects totaling more than 2 million square feet are slated to break ground in the Steamboat Springs area this summer.
"We don't really have a plan to base any of these new developments on," Weber said.
"This is a lot like the base area redevelopment," Deputy City Manager Wendy DuBord added about the downtown design plans.
Main Street Program Manager Tracy Barnett is also leading an effort to place an identical swath of downtown on the November ballot to create a Business Improvement District that would fund downtown operations and maintenance needs such as snow removal.
Weber said downtown design improvements will be coordinated with the Colorado Department of Transportation, which will conduct asphalt work on Lincoln Avenue in 2008 or 2009, and involve significant input from the community.
"It will be a very public process," Weber said.
Questions regarding downtown design standards should be directed to Weber at 871-8243 or jweber@steamboatsprings.net.
- To reach Mike Lawrence, call 871-4203 or e-mail mlawrence@steamboatpilot.com