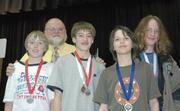 Science Olympiad
Steamboat Springs High School placed 12th out of 23 teams at a recent Science Olympiad competition in Fort Collins. Kristin Toy and Victoria Lavington led the team to a bronze-medal showing in health sciences. Austin Pivarnik and John Power placed sixth in astronomy. Vincent Abate placed seventh in "Wright stuff" with his rubber-powered monoplane. Jordan Davidson and Erin Lewis built and performed a musical device, which helped them place ninth. Kelsey Pierson participated in ecology, and Stefan Palmer competed in mineralogy. Teacher Charlie Leech is the school's Science Olympiad sponsor.
The Steamboat Springs team also was mentioned in The Coloradoan newspaper in Fort Collins for its original T-shirts designed by Toy. They read, "If it moves, it's biology. If it stinks, it's chemistry. If it doesn't work, it's physics."
Steamboat Springs — Steamboat Springs' latest Olympians are science buffs - not skiers or snowboarders.
On March 3, Steamboat Springs Middle School science teacher Brad Kindred took 14 students to the regional Science Olympiad in Fort Collins. The team placed sixth out of two dozen teams. Several individual team members also fared well in their competitions.
The duo of Wilson Horner, an eighth-grader, and David Kelly, a sixth-grader, won a gold medal in the solar system event. Eighth-graders Jeff Sperry and Dustin Atkins received a silver medal for ecology, and Arik Funke and Sperry received a bronze medal for oceanography.
The medalists received their hardware Wednesday at a science assembly.
"It takes a lot to compete in science," Kindred told the assembled eighth-graders. "These people deserve your applause."
Preparation for the March 3 competition began in October, when students started meeting after school to practice and select events.
The eighth-graders who chose to practice and compete in the Science Olympiad received a grade for preparation and extra credit for taking part. They also did not have to do a Science Fair project.
Kindred said the Science Olympiad curriculum meets and/or exceeds the state standards for the sciences, and the Science Olympiad is recognized as a Gifted and Talented program for those children who love and are interested in science.
For middle school students, the Science Olympiad has 23 events in such areas as physics, zoology, botany and engineering.
The eighth-graders who went to Fort Collins were Wilson Horner, Jeff Sperry, Christopher Holmquist, Christopher Barounos, Mirko Erspamer, Ryan Hogrefe, Austin Ritzel, Camille Sachs, Alex Bashan, Dustin Atkins, Arik Funke and Davis Fry. Seventh-grader Hannah Barkey also participated in the Science Olympiad, as did sixth-grader David Kelly.