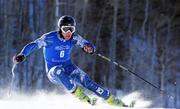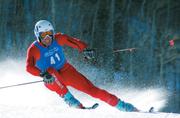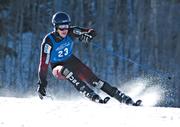 Steamboat Springs — Ski racer Austin Johnson survived a turn-filled opening run and then excelled in the second run to finish third in Thursday's Rocky Mountain Trophy Series giant slalom race at the Steamboat Ski Area.
"I made a few mistakes on my first run and I finished too far behind the leaders," Johnson said. "But my second run was an improvement."
Johnson's second-run effort moved him past Japan's Kensaku Katagiri into third place in the final results. Western division ski racer Chris Colpitts finished with a two-run time of 1 minute, 57.09 seconds to win the race. University of Utah skier Will McDonald was second with a time of 1:57.13, and Johnson placed third at 1:58.43.
"I haven't checked the times, but it was a good race for Austin," Steamboat Springs Winter Sports Club coach Scott Tanner said. "Normally he struggles a bit in his second run, but today he got it done in a big way."
Johnson said he is taking Thursday's finish in stride and will use the momentum when he steps into the starting gate for today's men's race.
"This is a four-day race, so you can't get too high or too low," the Steamboat racer said. "Every day is a new day, a different course, and every course varies just a little bit."
Other top Steamboat finishers in Thursday's race included Nathan Asoian in eighth, Tony Cesolini in 13th, Cory McConnell in 29th, Andy White in 32nd, Ryan McConnell in 35th, Taylor Coe in 38th and Ryan Coe in 40th. Steamboat's Dylan Roberts was 42nd, Max Marno was 44th, Jimmy Hostetler was 48th, and Hig Roberts was 49th.
Olympic gold medalist Phil Mahre, who is attempting to become the first skier to reach the U.S. Alpine Nationals at the age of 50, finished 16th in Thursday's race with a two-run combined time of 2:02.02.
The men's field will return to the Steamboat Ski Area today at 9:30 a.m. for the second giant slalom race of the week. Howelsen will host men's and women's slalom races Saturday and Sunday.
- To reach John F. Russell call 871-4209
or e-mail jrussell@steamboatpilot.com