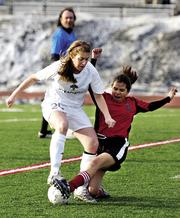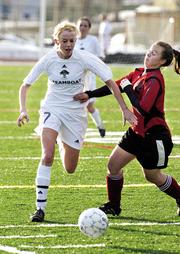 Steamboat Springs — In some ways, Thursday's season opener for the Steamboat Springs High School girls soccer team was out of the ordinary.
"Soccer's been played in the spring time for the girls since 1990, and never in that history would we have ever been outside playing a home game on March 15," Steamboat coach Rob Bohlmann said. Gardner Field's new artificial turf surface means springs sports teams can play home games before Steamboat's long winter comes to an end.
What took place on the field Thursday, however, was pretty typical for a season opener in Bohlmann's opinion - coaches still feeling out personnel choices and players figuring out how to use the full field and master game-day nerves. Fortunately for Steamboat, its players dominated offensive possession time and shut out Eagle Valley, 2-0.
The game was not as close as the score indicated, as Eagle Valley goalkeeper Mary Cochrane stopped nine Steamboat shots to keep the Sailors from blowing the game open.
Eagle Valley could only counter with two total shots.
Cochrane was still impressed with her team's effort in the loss, particularly given its recent 7-0 loss to Battle Mountain.
"We took what we learned from the Battle Mountain game and incorporated it into this game," Cochrane said. "It was so great, we were connecting passes, working as a team, everything was clicking."
If everything was clicking for the Devils, the Sailors certainly did not notice. Steamboat broke up every Eagle Valley offensive attempt and kept the ball in the Eagle Valley defensive zone for most of the first half.
After a few thwarted shot attempts, Steamboat found the net 20 minutes in. Carly Earp moved up from defensive duties to put her foot on a ball crossed from Amanda Tegtmeier. The shot sailed past Cochrane and into the back of the net.
Steamboat struggled to finish ample chances for the rest of the half. First, freshman Emily Birch's shot from outside the box hit the post, and then a shot from senior Betty Sasak hit the top crossbar after Cochrane got a hand on it.
The Eagle Valley bench started hooting and hollering in the second half as the Devils came out for a few quick chances in Steamboat's zone, which were turned back by defensive efforts from Courtney Garth and Liz Handing.
Steamboat began working more controlled possessions, distributing balls from the midfield to create breakaway scoring chances. Eagle Valley dodged bullets with repeated offside traps, a couple more saves from Cochrane and a few clutch plays from fullbacks Nicole Luczkow and Sarah Hoza.
Birch put a silence to the raucous Eagle Valley bench with seven minutes to go. Grabbing a loose ball from a Devils defender, Birch broke free on the right side and buried a low shot to secure the 2-0 win.
"Both the goals they scored were tough shots - well-placed, good goals," Cochrane said.
The Steamboat players hope to improve upon the performance in their 5:45 p.m. home game against Moffat County today.
"Hopefully we'll be able to build on this," Sasak said.