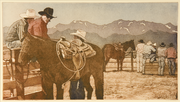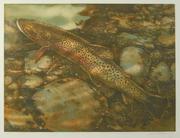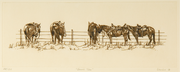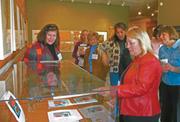 If you go
What: Intaglio Exhibit opening reception
When: 5 to 8 p.m. tonight
Where: Steamboat Art Museum, 807 Lincoln Ave.
Cost: Free
Call: 870-1755
Steamboat Springs — Rod Hanna recognized the cabin in one of Harriet Huff's aquatint intaglio prints hanging in the Steamboat Art Museum from his travels to Walden.
"To me it is so obvious that her work reflects the culture and heritage of Northwest Colorado," said Hanna, one of the museum's board members. "And it's beautiful work."
The museum's opening reception for its Intaglio Exhibition is from 5 to 8 p.m. today. The exhibit includes work by past and present local artists, visiting artists and pieces from local private collections.
"There is not only a local connection in terms of the art and the artists," Hanna said, "but also in terms of the work people have."
The featured intaglio prints represent many different processes, including drypoint, collograph, photogravure, softground and aquatints. The art form was chosen to bring an educational component to the museum.
"It's a medium in which people don't understand the whole process," said Shirley Stocks, museum board secretary and featured artist.
She set up educational display cases to illustrate how intricate the intaglio printing method is.
"It is very extensive, and the word 'tedious' comes to mind," Hanna said. "You have to have a lot of patience because it is technically challenging from start to finish."
His daughter, Ayn Hanna, is one of the featured artists. She spent the summer of 1990 working locally at Riverhouse Editions and then went on to get her master's degree in printmaking and sculpture.
"She first saw the etching process from Harriet Huff," Hanna said. "When she worked at the Riverhouse, she would spend her lunchtime doing sketches."
The exhibit is ideal for museum guests who are interested in viewing art and understanding the method in which the art is created, he said.
Susan Oehme, local master printer at Riverhouse Editions, and local artist Barbara Sanders will give a lecture at 7 p.m. March 23 about the history and techniques of intaglio printmaking. There will be a hands-on workshop from 10 a.m. to 2 p.m. March 24 at the Riverhouse.