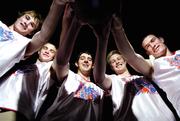 Steamboat Springs — It's not often that Steamboat Springs High School boys basketball coach Kelly Meek comes across something he hasn't seen before.
But it's also not often that two players like Aaron Calkins and Michael Vandahl come along.
The two juniors were voted the top two players in the Western Slope League, with Calkins narrowly edging Vandahl, 4-3, in coaches' votes to be named league player of the year.
It's the first time in Meek's lengthy career in Steamboat that he's had the top two players in the league get all of the votes. Meek wasn't allowed to vote for Steamboat players.
Calkins scored 20 points a game and grabbed eight rebounds a game. Vandahl added 15 points a game, 5.9 assists a game - good enough for second in the state - and set a school record by making 90.6 percent of his free throws.
Calkins' selection also marked the first time Steamboat has had an underclassman named player of the year since 1985, when Jon Baskin earned the honor.
Steamboat's other three starters - Colby Kostur (9 points a game), Cameron Petet (8.2 points a game) and Tanner Stillwell (3 rebounds, 2.5 assists a game) - earned honorable mention all-league.
Vandahl and Calkins were named to the first team.
"I was pleased for the kids," Meek said. "The other kids work well with (Calkins and Vandahl). I think when you look at it, (Kostur, Petet and Stillwell) were really undervalued around the league."
Other first team selections included: Ryan Foraker, Kevin Warkentin and Dakota Stonehouse of Glenwood Springs; Mark Douglass and Chris Williams of Palisade; Scott Rust and Drew Blatchford of Rifle; Michael Bear of Delta; Matt Barker of Eagle Valley and Eli Buckner of Moffat County.
In Soroco, senior Bryan Spaeth was a unanimous selection to the first team in District 5. Seniors Steven Meade and Johnny DeCosta were both named honorable mentions.
"Those are three seniors there," Rams coach Sam McLeod said. "Bryan got a lot of respect. A lot of the coaches said a lot of good things about him."
In Hayden, senior Bryan Richards was a first-team unanimous selection. Junior Jordan Williams was named honorable mention.
"Bryan had a really good second half of the season," Hayden coach Shawn Baumgartner said. "He really stepped up and helped us win some games."
On the girls side, Steamboat junior Lizzie Stoll and senior Shannon King made the honorable mention team.
Sailors coach John Ameen said both girls were very deserving of the award.
"For Shannon, it was her leadership as a senior," Ameen said. "For Lizzie, it was the confident drive she had, the effort and no-quit attitude in her."
While Steamboat hockey didn't put any players on the all-league team, junior Jake Stanford was presented with the team's Hobey Baker Award for representing what coach Jeff Ruff was looking for.
"He was the best all around in terms of intensity and being our go-to guy," Ruff said.