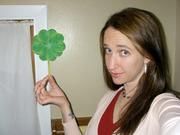 Allison Plean
Allison Plean's column appears Fridays in the 4 Points arts and entertainment section in the Steamboat Today. Contact her at 871-4204 or e-mail
aplean@steamboatpilot.com
.
Lucky Charms was always my favorite meal option in the university dining hall. But that little leprechaun who fed me marshmallow goodness was as much a farce as the nutritional content of the cereal.
So it comes as no surprise that most of the St. Patrick's Day rituals we all adore have no authentic or traditional roots.
"Leprechauns are not the cute little Lucky Charms guys," said Nora Parker, who is a local Irish dancer, teacher and musician.
According to Irish folklore, they are not nice and they do naughty things, she said.
They probably did pinch people, she added.
Well, thank goodness for leprechauns. St. Patrick's Day was the one time of year I was allowed to inflict harm upon my sister.
And perhaps the reason why the American public has embraced the St. Patrick's Day holiday is because there are 34.5 million U.S. residents who claim Irish ancestry, according to the 2006 U.S. Census Bureau. That number is almost nine times the population of Ireland, which consists of 4.1 million people.
As I attempted to piece together the origins of this popular holiday, I polled my co-workers to see what St. Patrick's Day meant to them.
"It means McDonald's has the minty shamrock shake," said Matt Stensland. "Dee-licious."
Mike Lawrence claims a healthy dose of Irish blood and cranks up his albums of Irish folk songs every St. Patrick's Day morning.
"I always think of my grandparents and get a little sentimental on St. Patrick's Day," he said. "Plus - the Red Sox play a spring training game that day as a tip of the cap to Boston's strong Irish population."
Melinda Mawdsley seemed to be on the same page as me.
"I have never understood why this holiday is that important in this country," she said. "But living in Steamboat, it makes me think of green grass - as in the snow will melt soon so I can see green grass ... and go tubing down the Yampa (River)."
Spring fever has begun to set in. I have already witnessed friends shopping for "free concert" tank tops.
On St. Patrick's Day, anything goes, clothing-wise. Advertising consultant Jill Hines wears fake green eyelashes every year, and I dig into my closet for the most ridiculous assembly of green attire I can find.
That's what the Irish spirit is all about - making the best out of what options are available to you.
The large wave of Irish migration to the United States occurred when the Great Potato Famine hit Ireland in 1845 and, according to The History Channel, "close to a million poor, uneducated, Catholic Irish began to pour into America to escape starvation."
The Irish were a persecuted and oppressed population.
"We are an immigrant nation for the most part," Parker said. "Our ancestors didn't come to this country because they were fat and happy where they were."
So we all have a lot to celebrate, regardless of our Irish lineage.
"I'm a North European mutt with a little bit of Irish," Parker said. "It's not a cultural connection for me. St. Patrick's Day is a good example of the influence of the Irish in our culture."
So whether you are celebrating the importation of Guinness beer, the spread of Christianity (St. Patrick was the patron saint of Ireland, and was believed to have introduced Christianity to Ireland in the fifth century), or your favorite green sweater - remember how lucky we are to not be facing the hardships of our ancestors.
Now pass the box of Lucky Charms.